Mød den næste generation af medarbejdere
Øg dine medarbejderes produktivitet
Forestil dig, at du har alle de hænder, du skal bruge for at holde produktionen kørende, så du kan imødekomme efterspørgslen. Leder du efter noget ekstra til dit team, der kan forbedre produktiviteten? Mød din næste generation af medarbejdere.
Cobots er nemme at installere og tilbyder en hurtig og omkostningseffektiv løsning. De kan øge fleksibiliteten, kvaliteten og hastigheden i produktionen og gøre det muligt for virksomheden at reagere hurtigt på skiftende markedsforhold.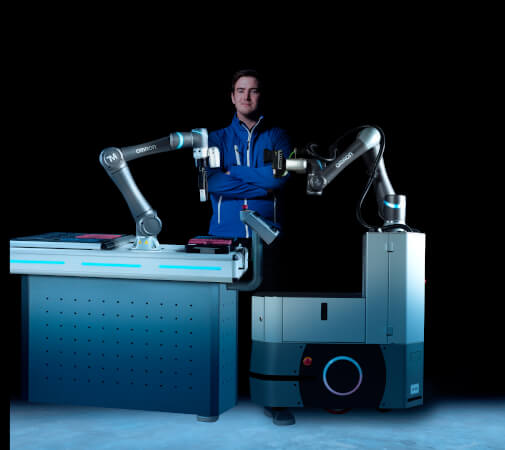 Nem at starte
For at reducere nedetiden til automatisering med robotter skal du bruge en robot, der kan starte hurtigt og holde sig i gang. Vores cobots leveres med alt, hvad du behøver for at komme i gang, direkte out-of-the-box.
Lave totalomkostninger
OMRON-cobots giver det højeste afkast på investeringen. De kan fleksibelt tilpasse sig nye produktionsprocesser og layout inden for bare få minutter.
Fleksibilitet
Vores kollaborative robotter er designet til at være nemme at implementere til forskellige opgaver og anvendelser, hvilket gør produktionen så fleksibel som nødvendigt.
Samarbejder uden problemer
Vores cobots lærer hurtigt og kan gøre din produktion mere effektiv. På få minutter kan du lære dem, hvordan de kan dele opgaver med mennesker og fleksibelt tilpasse sig nye krav. Udnyt fordelene ved integrerede sikkerhedsfunktioner, der gør det muligt for dem at arbejde sammen med eller tæt på mennesker, og øg produktiviteten af en lang række gentagne opgaver.
Se video
Omron's factory in Shanghai is creating an environment where people and robots work together, to meet challenges in manufacturing today, such as shortage in manpower and overall equipment effectiveness (OEE). In this video, you can see how Omron TM collaborative robots work safely side-by-side with people.

04:46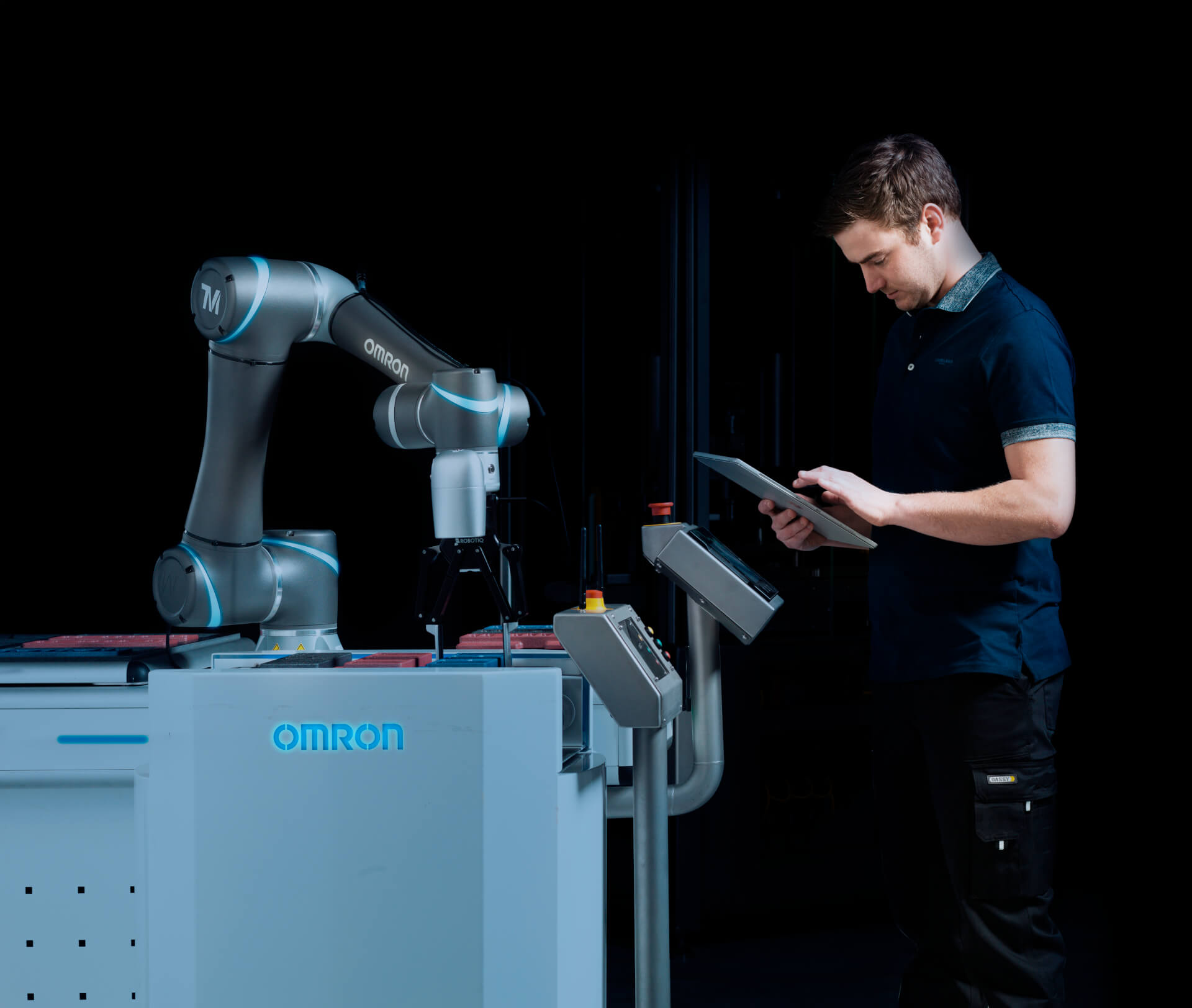 Applikationer
Uanset om du arbejder inden for automobil-, fødevareindustrien, emballage, plast, metal eller farmaceutisk produktion, er OMRON TM kollaborativ robot designet til at tilpasse sig næsten enhver industri.
Er du interesseret i at høre mere om vores kolllaborative robotter?
Sikkerhed i kollaborative applikationer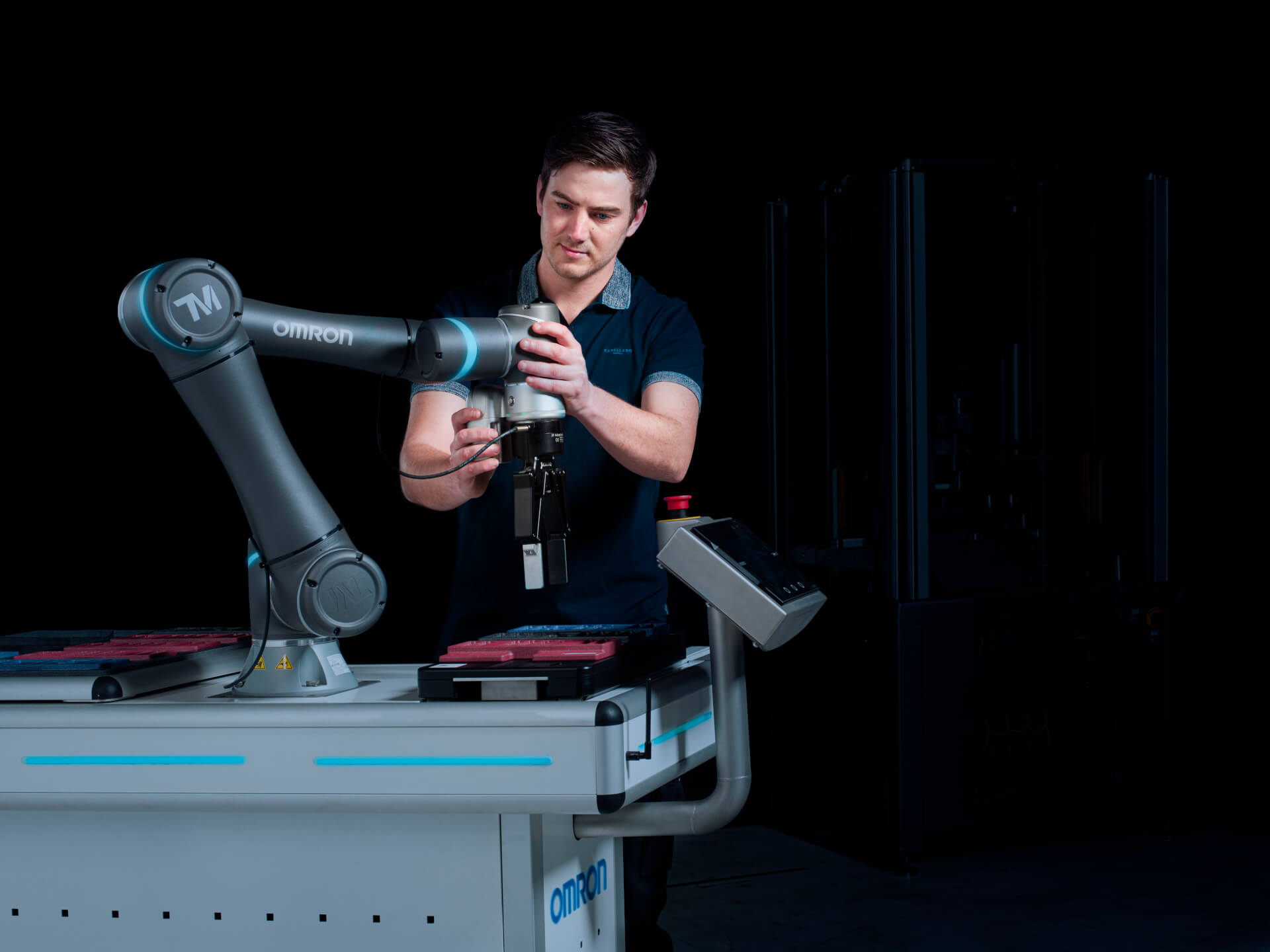 Kollaborative robotter leveres med integrerede sikkerhedsfunktioner, der gør dem i stand til at arbejde tæt sammen med mennesker, samtidig med at produktiviteten øges for en lang række anstrengende og gentagne opgaver.
Cobots er lette at implementere og tilpasse hurtigt og nemt til nye situationer. De arbejder tæt sammen med dine eksisterende medarbejdere og sikrer, at de har tid til at gøre det, mennesker gør bedst – at arbejde med kreative og mere værdiskabende opgaver.
Vi har designet vores cobots i overensstemmelse med ISO 10218-1- og ISO 10218-2-sikkerhedsstandarder samt ISO TS-15066 teknisk specifikation for at definere de nødvendige sikkerhedsfunktioner og ydeevnen. Vi opfordrer dig til at downloade vores hvidbog om cobots for at læse om branchestandarder, risikovurderinger, bedste praksis og strategier for at maksimere værdien af din anvendelse.
Service til risikovurdering
Vores team står klar til at hjælpe dig med at introducere cobots for dit team. Start med en service til risikovurdering for at mindske potentielle sikkerhedsrisici i din produktion. Vores sikkerhedsteknikere yder uovertruffen ekspertise til arbejde på stedet og identificerer relevante standarder og krav til enhver interaktion mellem menneske og maskine.
Stift bekendtskab med din næste generation af medarbejdere
OMRONs udvalg af kollaborative robotter omfatter en række modeller, der garanterer den rigtige rækkevidde og nyttelast til forskellige applikationer.
Rækkevidde
Nyttelast
Maks. hastighed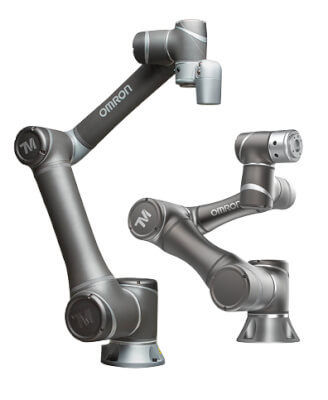 TM 5 - 700
Rækkevidde

700 mm

Nyttelast

6 kg

Maks. hastighed

1,1 m/s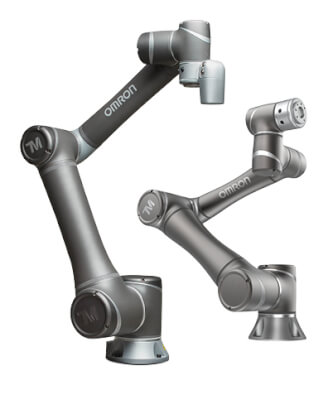 TM 5 - 900
Rækkevidde

900 mm

Nyttelast

4 kg

Maks. hastighed

1,4 m/s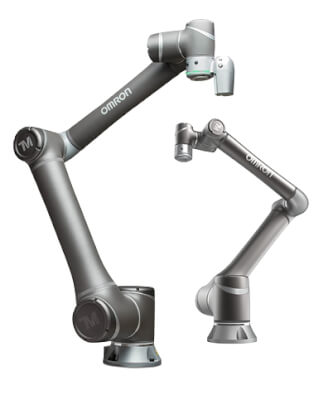 TM 12
Rækkevidde

1300 mm

Nyttelast

12 kg

Maks. hastighed

1,3 m/s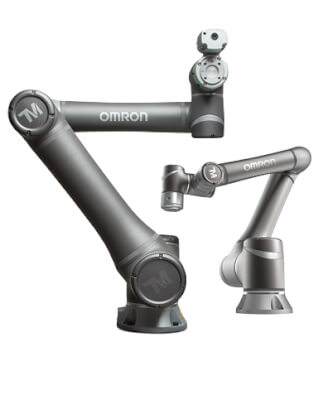 TM 14
Rækkevidde

1100 mm

Nyttelast

14 kg

Maks. hastighed

1,1 m/s
Cobots giver meget større fleksibilitet
Vi har designet vores kollaborative robotter, så de nemt kan implementeres til forskellige opgaver og anvendelser. Dermed bidrager de til at gøre produktionen så fleksibel som nødvendigt og give medarbejderne mulighed for at gøre det, de er bedst til.