Thank you for downloading the EE-SX95 Compact Pre-wired Photomicrosensor (Non-modulated) Datablad

Download again

Did you know that 4 out of 5 distributors buy this product in a bundle?

There are many variations of passages of Lorem Ipsum available, but the majority have suffered alteration in some form, by injected humour, or randomised words which don't look even slightly believable.

Read more
Features
Ultra-compact fork shape Photomicrosensor
The small sized photo microsensors are ideally suited for the detection of machine parts where space is crucial.
Mounting with M3 or M2 screws
Bright indicator LEDs for high visibility from many directions.
Antivalent output (L-ON/D-ON)
Load short-circuit protection circuit
Deep slot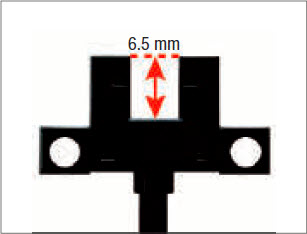 Deep slot of 6.5 mm allows higher tolerances in mechanical design.
Specifications & ordering info
| Produkt | Shape | Sensing method | Sensing distance | Setting method | Connection method | Cable length | Output type | Operation mode | Response time | Material housing | Thread size | Width | Height | Depth | Type of light | Power supply voltage | Features | Description |
| --- | --- | --- | --- | --- | --- | --- | --- | --- | --- | --- | --- | --- | --- | --- | --- | --- | --- | --- |
| | Straight | Through-beam with slot | 5 mm | Fixed | Cable | 1 m | PNP | Dark-ON, Light-ON | 0.5 ms | PBT | Other | 23.9 mm | 12 mm | 6 mm | Infrared light | 5-24 V | Flexible cable | Photo micro sensor, slot type, PNP, 1 m robotic cable |
| | Straight | Through-beam with slot | 5 mm | Fixed | Cable | 1 m | PNP | Dark-ON, Light-ON | 0.5 ms | PBT | Other | 23.9 mm | 12 mm | 6 mm | Infrared light | 5-24 V | | Photo micro sensor, slot type, PNP, 1 m cable |
| | L-shaped | Through-beam with slot | 5 mm | Fixed | Cable | 1 m | PNP | Dark-ON, Light-ON | 0.5 ms | PBT | Other | 13.4 mm | 12 mm | 12 mm | Infrared light | 5-24 V | Flexible cable | Photo micro sensor, slot type, PNP, 1 m robotic cable |
| | L-shaped | Through-beam with slot | 5 mm | Fixed | Cable | 1 m | PNP | Dark-ON, Light-ON | 0.5 ms | PBT | Other | 13.4 mm | 12 mm | 12 mm | Infrared light | 5-24 V | | Photo micro sensor, slot type, PNP, 1 m cable |
| | L-shaped | Through-beam with slot | 5 mm | Fixed | Cable | 1 m | NPN | Dark-ON, Light-ON | 0.5 ms | PBT | Other | 13.4 mm | 12 mm | 12 mm | Infrared light | 5-24 V | Flexible cable | Photo micro sensor, slot type, NPN, 1 m robotic cable |
| | L-shaped | Through-beam with slot | 5 mm | Fixed | Cable | 1 m | NPN | Dark-ON, Light-ON | 0.5 ms | PBT | Other | 13.4 mm | 12 mm | 12 mm | Infrared light | 5-24 V | | Photo micro sensor, slot type, NPN, 1 m cable |
| | F-shaped | Through-beam with slot | 5 mm | Fixed | Cable | 1 m | PNP | Dark-ON, Light-ON | 0.5 ms | PBT | Other | 12 mm | 12 mm | 13.4 mm | Infrared light | 5-24 V | Flexible cable | Photo micro sensor, slot type, PNP, 1 m robotic cable |
| | F-shaped | Through-beam with slot | 5 mm | Fixed | Cable | 1 m | PNP | Dark-ON, Light-ON | 0.5 ms | PBT | Other | 12 mm | 12 mm | 13.4 mm | Infrared light | 5-24 V | | Photo micro sensor, slot type, PNP, 1 m cable |
| | F-shaped | Through-beam with slot | 5 mm | Fixed | Cable | 1 m | NPN | Dark-ON, Light-ON | 0.5 ms | PBT | Other | 12 mm | 12 mm | 13.4 mm | Infrared light | 5-24 V | Flexible cable | Photo micro sensor, slot type, NPN, 1 m robotic cable |
| | F-shaped | Through-beam with slot | 5 mm | Fixed | Cable | 1 m | NPN | Dark-ON, Light-ON | 0.5 ms | PBT | Other | 12 mm | 12 mm | 13.4 mm | Infrared light | 5-24 V | | Photo micro sensor, slot type, NPN, 1m cable |
| | R-shaped | Through-beam with slot | 5 mm | Fixed | Cable | 1 m | PNP | Dark-ON, Light-ON | 0.5 ms | PBT | Other | 12 mm | 12 mm | 13.4 mm | Infrared light | 5-24 V | Flexible cable | Photo micro sensor, slot type, PNP, 1 m robotic cable |
| | R-shaped | Through-beam with slot | 5 mm | Fixed | Cable | 1 m | NPN | Dark-ON, Light-ON | 0.5 ms | PBT | Other | 12 mm | 12 mm | 13.4 mm | Infrared light | 5-24 V | Flexible cable | Photo micro sensor, slot type, NPN, 1 m robotic cable |
| | R-shaped | Through-beam with slot | 5 mm | Fixed | Cable | 1 m | NPN | Dark-ON, Light-ON | 0.5 ms | PBT | Other | 12 mm | 12 mm | 13.4 mm | Infrared light | 5-24 V | | Photo micro sensor, slot type, NPN, 1m cable |
| | U-shaped | Through-beam with slot | 5 mm | Fixed | Cable | 1 m | PNP | Dark-ON, Light-ON | 0.5 ms | PBT | Other | 13.4 mm | 16 mm | 6 mm | Infrared light | 5-24 V | Flexible cable | Photo micro sensor, slot type, PNP, 1 m robotic cable |
| | U-shaped | Through-beam with slot | 5 mm | Fixed | Cable | 1 m | PNP | Dark-ON, Light-ON | 0.5 ms | PBT | Other | 13.4 mm | 16 mm | 6 mm | Infrared light | 5-24 V | | Photo micro sensor, slot type, PNP, 1 m cable |
| | U-shaped | Through-beam with slot | 5 mm | Fixed | Cable | 1 m | NPN | Dark-ON, Light-ON | 0.5 ms | PBT | Other | 13.4 mm | 16 mm | 6 mm | Infrared light | 5-24 V | Flexible cable | Photo micro sensor, slot type, NPN, 1 m robotic cable |
| | U-shaped | Through-beam with slot | 5 mm | Fixed | Cable | 1 m | NPN | Dark-ON, Light-ON | 0.5 ms | PBT | Other | 13.4 mm | 16 mm | 6 mm | Infrared light | 5-24 V | | Photo micro sensor, slot type, NPN, 1 m cable |
Compare products
Show more products
Downloads