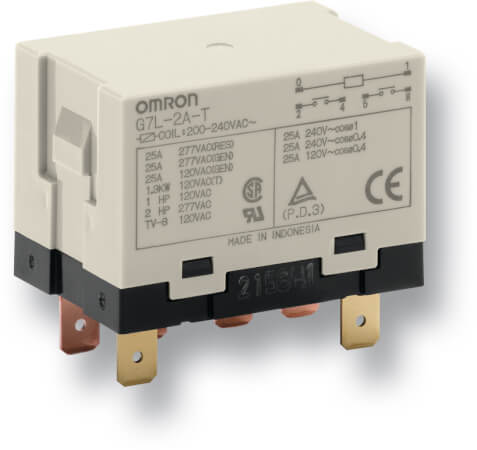 G7L
Multi-pole power relay
A high-capacity, high-dielectric-strength relay compatible with momentary voltage drops. G7L is equipped with a double-break mechanism and a test button (excluding -P models).
SPST-NO or DPST-NO contact types
Quick connect, PCB or screw terminals
20, 25 or 30A rated load
Compatible with momentary voltage drops
Wide range of applications with 100 or 200V coils
Specifications & ordering info
Ordering information
Order code1

Common Coil Voltages 2
Accessories
Specifications
Coil Ratings
Note 1. The rated current and coil resistance are measured at a coil temperature of 23°C with tolerances of ±15%/20% for AC rated current and ±15% for DC coil resistance.
Contact Ratings
Failure rate3 (reference value)
---
How can we help you?
If you have a question or would like to ask for a quote, please contact us or send a request.
+ 45 43 44 00 11
Contact us
Kontakt mig G7L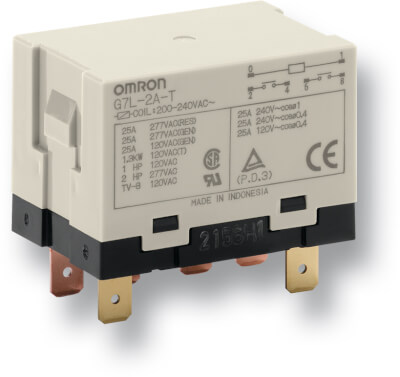 Tak for indsendelsen af din forespørgsel. Vi vil vende tilbage med svar så hurtigt som muligt.
Vi har desværre tekniske problemer. Din formular er ikke modtaget. Vi undskylder og beder dig om at prøve igen senere. Detaljer: [details]
Download
Request quotation
Request quotation
Tilbud på G7L
Med denne formular kan du bestille et tilbud på et eller flere af vores produkter. Venligst udfyld alle de felter der er markeret med *. Dine personlige oplysninger vil blive håndteret fortroligt.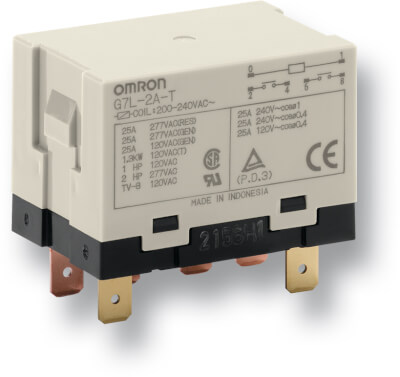 Tak for din forespørgsel. Vi vender tilbage med de ønskede oplysninger så hurtigt som muligt.
Vi har desværre tekniske problemer. Din formular er ikke modtaget. Vi undskylder og beder dig om at prøve igen senere. Detaljer: [details]
Download