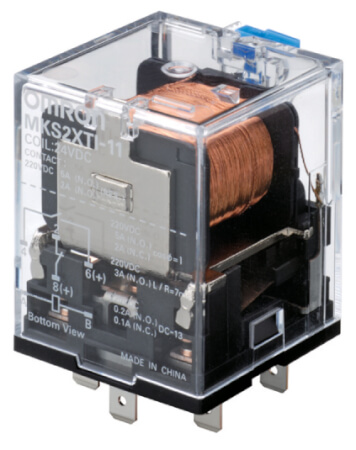 MKS(X)
DC-switching relay that can switch 220 VDC, 10 A (resistive load)
The MK-S(X) is the smallest relay in the world that can switch 220VDC 10A resistive load. Applications include the safe and reliable switching of valves, solenoids, contactor coils and other instances where high resistive loads are encountered.
Suitable for DC-switching
DC load switching up to 10 A; 220 VDC (resistive load)
AC load models are capable of switching up to 15 A; 250 VAC (resistive load)
SPST-NO/SPST-NC contact form enables contact welding detection
Lockable test button for easy testing
Product discontinuation: 31st of March 2022. Download replacement.
Specifications & ordering info
Ordering information
Models for DC loads
Models for AC loads
Sockets & accessories
Specifications
Coil ratings
Contact ratings
Note: These values apply to a switching frequency of 30 times per minute for DC Load models and 20 times per minute for AC Load models.
Technical data
| | |
| --- | --- |
| | |
| | |
| | |
| | |
| | |
| | |
| Electrical endurance3 | 100.000 operations min. (at rated load and maximum switching frequency) |
---
How can we help you?
If you have a question or would like to ask for a quote, please contact us or send a request.
+ 45 43 44 00 11
Contact us
Kontakt mig MKS(X)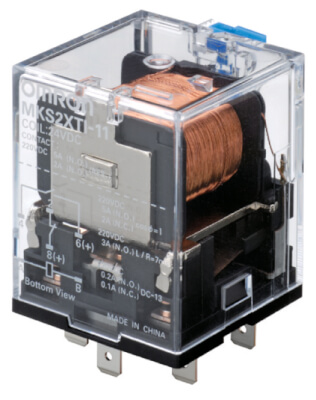 Tak for indsendelsen af din forespørgsel. Vi vil vende tilbage med svar så hurtigt som muligt.
Vi har desværre tekniske problemer. Din formular er ikke modtaget. Vi undskylder og beder dig om at prøve igen senere. Detaljer: [details]
Download
Request quotation
Request quotation
Tilbud på MKS(X)
Med denne formular kan du bestille et tilbud på et eller flere af vores produkter. Venligst udfyld alle de felter der er markeret med *. Dine personlige oplysninger vil blive håndteret fortroligt.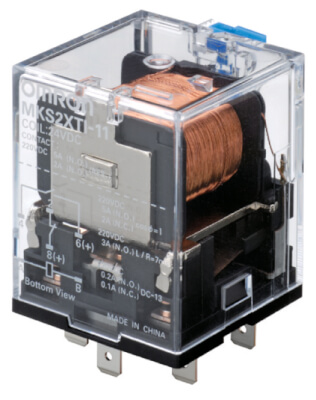 Tak for din forespørgsel. Vi vender tilbage med de ønskede oplysninger så hurtigt som muligt.
Vi har desværre tekniske problemer. Din formular er ikke modtaget. Vi undskylder og beder dig om at prøve igen senere. Detaljer: [details]
Download