OMRON Releases New FH-SMD Series 3D Vision Sensor for Robot Arms
Vision sensor enables human-like detection and flexibility for automating part picking
The FH-SMD sensors from OMRON can be mounted on a robot to recognize randomly placed (bulk) parts in three dimensions, enabling space-saving assembly, inspection, and pick & place that are difficult with conventional robots, whilst improving productivity. OMRON brings innovation to manufacturing sites through total solutions combining robots and automation devices.
Due to labour shortages, manufacturers are looking for ways to automate processes that rely on the senses of experienced human workers, such as bin picking. The new FH-SMD Series 3D Vision Sensor is small and light enough to be mounted on a robot arm, eliminating the need for special mounting equipment and thus saving space. This sensor can be moved to change the viewpoints and easily recognize parts, reducing blind spots and providing reliable detection. In addition, the newly developed 3D measurement technology enables part detection in approximately 0.4 seconds*1 regardless of the shape and location. Bulk parts assembly for example in automotive applications can be automated smoothly.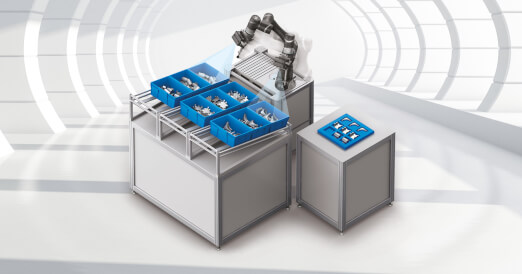 Key Features and Benefits
1. Small and lightweight 
The small and light 3D vision sensor for robot arms saves installation space. There is no need for large mounting equipment or major layout changes, which are required for other 3D vision sensors. It is easily transportable and enables flexible part picking from multiple locations. 
2. Faster cycle time thanks to human-like speed and flexibility 
High-speed detection in approximately 0.4 seconds*1makes picking smooth. High-speed detection is accomplished by 3D measurement technology to create 3D shape images and 3D recognition technology to identify the position and posture of targets. 
3. Easy setup without manuals 
The wizards guide users step-by-step through setting up a picking application, from camera setup to calibration.  
*¹ Total time for 3D measurement and 3D recognition under our specified conditions.
Følg Omron Industrial Automation på LinkedIn