Winner of 2023 Good Design Award: New OMRON V460-H intelligent DPM reader with advanced Ethernet connectivity
OMRON, a global leader in industrial automation has launched the new V460-H Intelligent Direct-Part Mark (DPM) Industrial Reader. This rugged handheld reader delivers advanced decoding performance while offering Ethernet network connectivity to meet the needs of today's dynamic manufacturing and logistics sectors.
The new V460-H is one of the five OMRON products that won this year's Good Design Award, an annual global design award with the objective of enhancing the quality of life and addressing societal challenges through design. It embodies OMRON commitment to practical yet technologically advanced solutions.
Tailored for the automobile industry's manual processes for example on production lines for engines and powertrains, the V460-H handheld code reader excels in traceability processes. Its ergonomic design minimizes wrist strain, while its feedback system – with beeps, vibrations, and a bright indicator light – makes checking the reading results easy.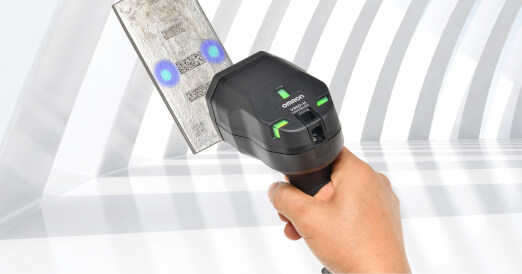 The V460-H DPM reader offers quick and easy setup, thanks to the WebLink configuration. The liquid lens autofocus optics and Time-of-Flight (ToF) sensor ensures fast and versatile imaging, a key requirement in applications involving intricate machinery parts, serialized components, and electronic assemblies.
The V460-H's offers extended reading range from direct contact up to an expansive 254 mm [10"]. With its alternate multi-color lighting configurations, it is ideally suited for environments with varying light conditions. The combination of audible, haptic/vibration, and multi-directional visual indicators ensures immediate and intuitive feedback, while reducing potential operational errors.
Built with resilience in mind, the V460-H is IP65-rated. It meets the IEC-60068-2-31 standards for drop-and-tumble and the ISO-16750-5 for chemical resistance. Modern connectivity features, such as full Power over Ethernet (PoE) and support for Ethernet TCP/IP, EtherNet/IP, and PROFINET, reinforce its relevance for industries emphasizing smart and connected operations.
OMRON is thrilled with the jury evaluation of the V460-H at the recent 2023 Good Design Awards. The members of the jury applauded the deep analysis that has gone into examining the factors that hinder efficiency and increase the workload in manual tasks. Its design elements bridge the gap between tools and human sensory experiences and are seamlessly incorporated within a unique octagonal frame. This results in a product that is not only functional but also aesthetically appealing.
Explore the V460-H Intelligent DPM Reader further
Følg Omron Industrial Automation på LinkedIn