Digitalization in the automotive industry: Seven tips for smart production
Udgivet kl. 2. november 2022 i Sustainable Manufacturing
If you want to grow and master crises, you have to be digitally fit – this also applies to the important automotive sector. There is no way around digital tools for addressing customers or productivity. Artificial intelligence (AI) and sustainability are key drivers and focus topics, as a study by Capgemini shows. Experts from Gartner point out the importance of open-source collaboration approaches, holistic ecosystems, and technology partnerships. But what should we look out for in digitalization and intralogistics in the production of the future? We want to answer this question in two parts. We start with tips on digitization in the smart factory. As an automation expert, OMRON has been accompanying manufacturers and suppliers on their way to more digitalization sophistication for many years.
How digital tools help to master current smart factory challenges
Agility and customer centricity, resilient supply chains, faster operations, and sustainability are the order of the day. E2E (end-to-end) manufacturing and supply chains support these goals. Moreover, if manufacturing processes can be more easily adapted to modular production lines, companies can act much more individually. But what role do digital technologies play in new smart factory approaches? And what should companies pay more attention to? We have compiled recommendations to implement digital projects as cost-effectively and resource-efficiently as possible.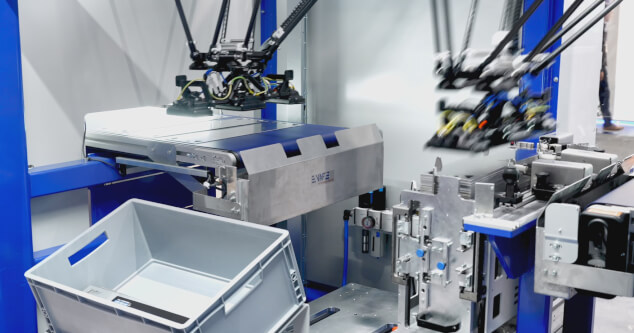 Seven tips for digital automotive production
Rely on digital tools paired with AI to access all information, operations, and components. Digital tools help bring together and optimize operational or manufacturing planning, purchasing, custom execution, and more.

Link Operational Technology and Information Technology (OT and IT): A more seamless IT-OT integration, i.e. the connection of IT and other technologies in production, is the be-all and end-all of successful IIoT projects. OT in the automotive environment includes automation solutions, sensor technology, or motion control.

Develop a coherent Big Data strategy: Smart (Intelligent) Manufacturing is a holistic strategy that encompasses the entire process from design, optimization, manufacturing, and delivery to the entire product lifecycle. Increased communication options, along with improved data generation and management, help to optimize processes and facilitate decision-making.

Continuously optimize workflows in modern production facilities using AI. Smart manufacturing supports sophisticated production and assembly methods to improve quality, increase OEE, and increase flexibility while optimizing sustainability, performance, and costs.

Rely on powerful sensors, vision technology, and controllers. Data generated by sensors and controllers allow you to dynamically adapt intelligent machines to changing processes and operating conditions and reduce the workload of your employees.

Cooperate with strong partners: Industrial ecosystems, i.e. the interaction of different technologies and experiences, are gaining importance in the smart factory. OMRON scores in terms of OT. When it comes to IT expertise, we work with experienced partners.

Determine the performance of machines and processes reliably and accurately using digital simulation technologies. Digital technologies with predictive maintenance and adaptive performance extend the life of machines. Smart manufacturing reduces time-to-market, energy, and development costs. 
OMRON and Dassault Systèmes
The example of Dassault Systèmes shows what an innovative technology partnership in the automotive environment can look like. The technology company creates collaborative virtual environments as "virtual twin experiences" of the real world. In collaboration with VAF and Dassault Systèmes and using the 3DEXPERIENCE platform, OMRON has developed a robotic stacker cell for the assembly of fuel cell stacks. The solution can achieve a 0.5-second cycle of the individual layers of bipolar (BPP) and membrane electrode (MEA) plates.
The idea for the project came from e.Volution The core was a new Mobility-as-a-Service (MaaS) concept based on a fuel cell. With 3DXP, the digital twins of design and production merge into a common digital twin as a virtual basic model. This allows production processes to be run virtually so that they can be better planned and developed. IT and OT are merged into agile and scalable production solutions. Hand in hand, the companies involved want to rationalize the production of hydrogen fuel cells. Virtual twins can support prototyping, simulate material and resource savings in new cycle concepts, and help shorten time-to-market. At the same time, such an approach promotes sustainability and efficiency gains – and that's the goal we're all pursuing, isn't it?!
Read more about OMRON's automotive solutions.
Contact us for more information