Mobile robot automates food distribution in a pilot at senior center
Udgivet kl. 16. april 2021 i Flexible Manufacturing
The Kustaankartano Senior Center in Finland is currently testing an autonomous mobile robot for automating food logistics between the Kustaankartano Food Centre and the senior centre. The pilot is being carried out in co-operation with Service Centre Helsinki; Helsinki Social Services and Health Care Division; and Forum Virium Helsinki. Its aim is to streamline the transport of meals to the senior centre's wards.
0:00 -

Mobile robot automates food distribution in a pilot at senior center
The Polle (workhorse) robot developed by Dimalog Oy is based on OMRON's autonomous LD-250 mobile robot. This is the strongest in the LD series of robots and can handle payloads of up to 250kg. It can navigate autonomously and is designed to interact with people to provide a collaborative and safe working environment.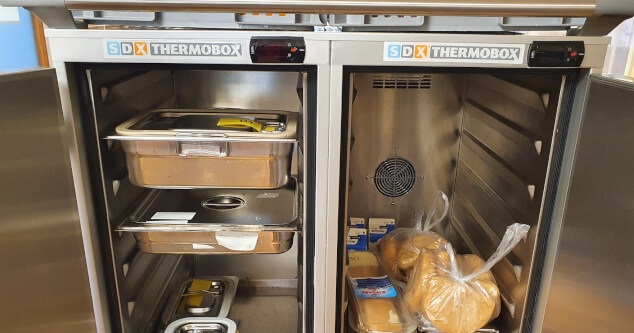 The mobile robot acts like a serving trolley, but as well as transporting meals and serving dishes, it can also be used for other items, such as mail, cardboard waste and laundry. The mobile robot navigates independently along Kustaankartano's service tunnel, lifts and ramps. It can be easily recognised as it makes the sound of a horse's hooves, so that it can be noticed more easily as it passes by. Polle also identifies hazards and potential obstacles in the aisles. Thanks to dynamic obstacle avoidance, it can navigate in narrow and changing environments, for example even if a new obstacle, such as a bed, is added.
A new approach to food transport
Katriina Bernoulli, Service Centre Helsinki's Multi-service Development Manager, reports: "In Kustaankartano, a large part of the food distribution time is spent in transporting the meals, as the area is large and the distances between the departments are long. We hope that this new technology will make this easier. For food deliveries to be successful, it's essential that customers receive their meals on schedule and if there is an issue, an immediate notification is received. This will then enable food deliveries to be handled in a different way."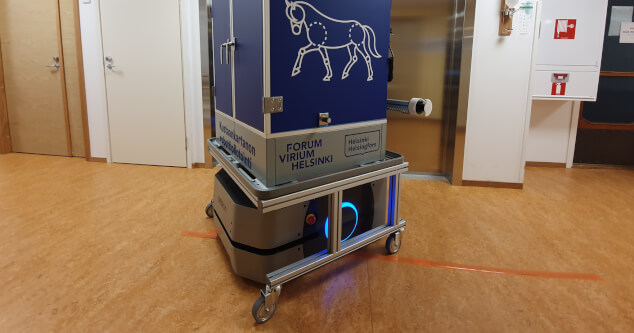 Robots in the food service industry are a new phenomenon. In the new project - a blend of Kustis Goes Digi! and Co-created Health and Wellbeing (CoHeWe) - close collaboration between the parties involved has been paramount in ensuring that different perspectives were taken into account. During the test runs, feedback and observations on the operation of the mobile robot will be collected to evaluate the follow-up.
Dimalog Oy, a technology company that specialises in mobile and collaborative robotics, was chosen as the robot's implementation partner. The service design used in the pilot came under the leadership of Muotohiomo Oy. Peeter Lange, Project Manager of the Forum Virium Helsinki CoHeWe project, says: "The Polle robot is a great example of how the City of Helsinki develops innovations in collaboration with companies. Kustaankartano is a test platform where companies can try out their products in a real user environment. If the innovations work, the city can save money, time and resources."
If the pilot is successful, robotics could potentially be used in Service Centre Helsinki's other food services, especially in healthcare. It's hoped that the experiment will bring a new understanding of the possibilities. "In the food service industry, the use of robotics is still quite new, but will certainly become more common in the near future," says Katriina Bernoulli. "Through Polle, we will get information on how the robot works in food transport, but will hopefully also gain insights into the possibilities of robotics in the whole industry. This is an interesting learning process for us."
Other opportunities for robots
In addition to catering, robotics is seen as providing opportunities for meeting needs in other industries. Mikael Neuvonen, project leader and Director of the Development Services Unit at Service Centre Helsinki, observes: "Experimenting and using robotics in different services has long been one of our goals in different services. We hope that the results of this experiment can be used not only for meal transport but also for needs in the social and healthcare industry."
This belief is echoed at the Kustaankartano Senior Centre, where people are happy to take part in new experiments. The centre's Director, Tarja Sainio, explains: "As part of the Kustis Goes Digi project, we have carried out various digital experiments in Kustaankartano. We are looking for new ways to work and free up the resources of our staff so that they can spend more time taking care of the residents and working with them. This pilot is one part of the project. Digitalisation is the future and we are eager to see what opportunities it and robotics will bring, and we want to be involved in this development work."
Contact us for more information