Powering through the energy and fuel crisis with automation
Udgivet kl. 7. december 2022 i Robotics
To counter rising prices and meet environmental targets, industrial enterprises should explore how automation technologies from a single source might help contribute to their sustainability strategy.
High energy and fuel prices are putting a strain on both households and industry. Not only is the situation negatively impacting financial plans and wallets, but the excessive prices are forcing some companies to cease production. According to Make UK 42% of manufacturers surveyed said that their electricity bills have increased by 100% in the past 12 months and 32% said that gas prices have increased by over 100% in the past year. A worrying 12% of manufacturers have already made job cuts as a direct result of increased energy bills.
The war in Ukraine, Covid-19 pandemic, and gas pricing are only a few of the causes of the crisis, which impacts all sectors and has an impact on everything from power prices to supply chains. What should manufacturing companies consider now? Comprehensive automation strategies are essential for greater flexibility and energy efficiency. This includes innovative robotics paired with sensor and vision technology as well as artificial intelligence – AI at the Edge. In addition, real-time data from production plants can assist with detecting anomalies and improving overall equipment effectiveness (OEE).
Labour shortages and sustainability
While focusing on reducing energy and electricity costs, companies should also look into streamlined processes that are the key to greater sustainability. Automation addresses the two primary issues that manufacturing firms face. For instance, demographic shifts result in fewer available jobs. In the first quarter of 2022, over 2.9 percent of positions in the EU were unfilled, nearly 50% more than during the same period the previous year.  
The second challenge is to save energy and reduce the environmental impact. One-quarter of the companies, for example, have not yet established clear environmental targets. However, the shortage of skilled workers and the climate crisis must be addressed strategically, and this is where comprehensive automation solutions may help.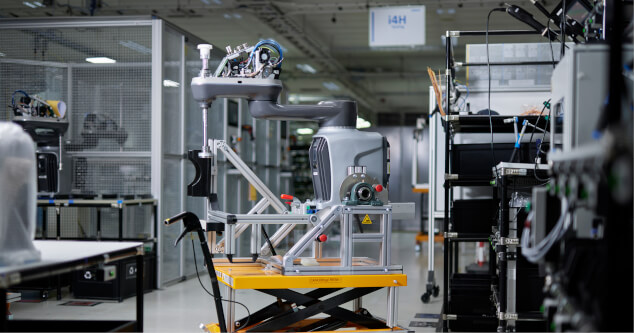 Reduce waste by minimising rejects
The optimal coordination of processes and systems is a critical requirement. Sensor technology and artificial intelligence (AI) enable organisations to detect potential bottlenecks in a plant, such as loose cables or malfunctions, and to take proactive countermeasures.
Sensor technology and artificial intelligence (AI) enable organisations to detect potential bottlenecks in a plant, such as loose cables or malfunctions, and to take proactive countermeasures.  Sustainability is far more involved than simply focusing on energy reductions, in fact, growing companies should prioritise scrap and trash reduction.  Optical inspection and innovative technology contribute to avoiding errors and failures during the early stages of production, hence minimising wasteful production and the costs that come with it.
Flexible machine changeover and automated replenishment
Production lines should be easily adaptable. This increases flexibility and efficiency while reducing downtime. On one hand, product lines are constantly expanding. Customisation, traceability, and sustainability, on the other hand, are high on the agenda. Manufacturers need to stock more items in smaller batches, and demand has increasingly become harder to predict.  So, where do you begin? With automated mobile robots (AMR) and machine feeding via cobot-based solutions for continuous production, material replenishment on the production line can be optimised.
Collaborative robots (cobots) can increase material feed speed by picking up packaging such as cartons and depositing them straight on the conveyor belt or into the packaging machine. Conveyor belt tracking automation and image processing features bring additional benefits together with SCARA (Selective Compliance Assembly Robot Arms) solutions, which help with restocking.
Minimise changeover times, simplify maintenance
It can also be advantageous to employ automated machine setup, which combines sensors, control, motion, safety, and robotics. All machine processes should ideally be coordinated and integrated seamlessly for the benefit of efficiency and sustainability.
An example: OMRON's Robotic Integrated Controller (IC) helps to radically reduce changeover times in production lines. The design manager simplifies the process of creating production processes and product variants. Visual monitoring helps to optimise adjustments even further. 
In summary, Omron IC synchronises automation technology so that manufacturers can enhance speed and accuracy of production, simulate entire production lines, simplify maintenance and shorten time-to-market.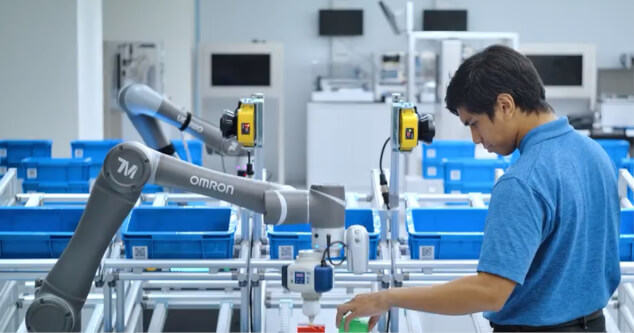 Wanted: solutions with few interfaces
Resource-efficient and flexible production drives sustainability efforts and is a good countermeasure against rising prices and stricter regulations. In the search for a suitable technology partner, it is important to choose a supplier that can offer a diverse product portfolio that covers all targeted areas – e.g., from robotics and control to image technology, AI and data processing, safety, and controllers – from a single source. Low-interface solutions are critical for technologists to work seamlessly and smoothly, as otherwise, desired efficiency is limited. A holistic controller is at the heart of an end-to-end and integrated automation solution that can reduce system downtime, waste, and errors while also lowering electricity costs and improving sustainability.
Sustainable technology partners: Future-oriented battery production
In addition, the technology partner should also be committed to sustainability. As part of its SF2030 strategy, OMRON aims to reduce CO2 emissions through energy savings and clean power consumption. The company pursues energy and resource-saving manufacturing practices (Eco Manufacturing). OMRON recently established an automation and robotics project in battery and fuel cell production with partners VAF and Dassault, in which design and manufacturing are merging with digital twins, and IT information technology and OT operating technology are shaping a symbiotic relationship.
You might wonder if such solutions are only available for financially successful large corporations. No! Smart and integrated robotics solutions are affordable and attainable for businesses of all sizes and industries. Cobot technology is appropriate for both SMEs and large-scale industry - particularly for manual steps that require quick, flexible retooling, as they can be programmed simply by non-experts. Innovative robotic solutions enable organisations to improve quality, become more self-sufficient, and save money on energy. Only those who rely on new technology now, optimise processes with modern robotics, and thus become more sustainable, will be able to compete in the future - and overcome the energy crisis.