Affordable automation: Leasing cobots and mobile robots for flexibility on the factory floor
Udgivet kl. 4. marts 2021 i Flexible Manufacturing
In line with the move to Industry 4.0, an increasing number of manufacturers are turning to automation as a way of streamlining processes and boosting productivity. A key aspect of this is the use of robots, often working alongside people in the factory. However, many companies might be reluctant to invest in additional automation, particularly following the economic difficulties presented by COVID-19. For manufacturers looking for an affordable solution, cost structures with leasing options are being implemented as an option to allow adaptability on the factory floor.
Countries such as the UK and Germany are likely to experience serious labour shortages over the coming decade, especially in relation to technical specialists. In the UK alone, 63% of organisations are currently experiencing a skills shortage, while 68% of employers found that they were unable to find candidates who were suitable for vacant roles. At the same time, product life cycles are becoming shorter. The corona pandemic has posed further challenges to companies of all sizes across all industries, with companies facing significantly reduced consumption as well as disrupted supply chains.
Robots and
collaborative robots
(tcm:355-97549)
(cobots) are easy to set up and offer a quick solution. They can increase the flexibility, quality and speed of production and enable companies to respond rapidly to changing market conditions. The pandemic has led to developments such as social distancing and tighter safety regulations that companies need to adhere to. Automation can help in overcoming this challenge while also improving security and efficiency in the longer term.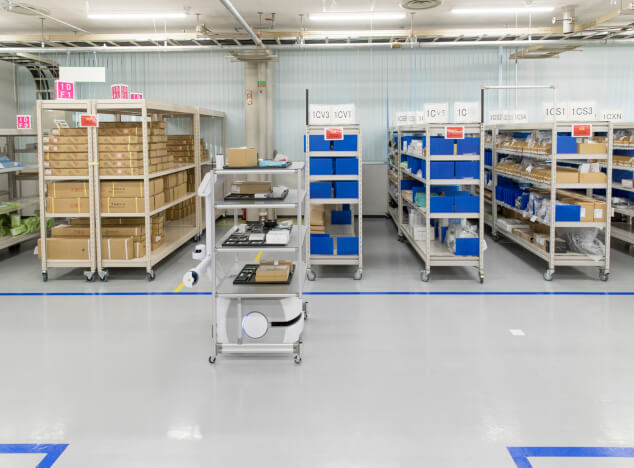 Cobots for shorter life cycles
Cobots were first introduced in 2008 and represent a relatively new category of industrial robots. In contrast to traditional robots, which have to be shielded from the human workspace by a security fence, cobots were developed to work safely with people. Users also need less time and money to program an application with these 'helper robots'.
In addition, cobots can be easily moved from one location to another to work on different tasks, whereas conventional industrial robots have to stay in one location and can normally only be used for a specific task within the robot cell. Cobots therefore provide much greater flexibility. The diverse tasks they can handle vary from simple pick-and-place applications for parts handling, sorting and palletising, through to machine assembly, order picking, packaging and testing. They can help to apply adhesive and sealants, assemble or disassemble parts, measure, test, check and take over screwing operations.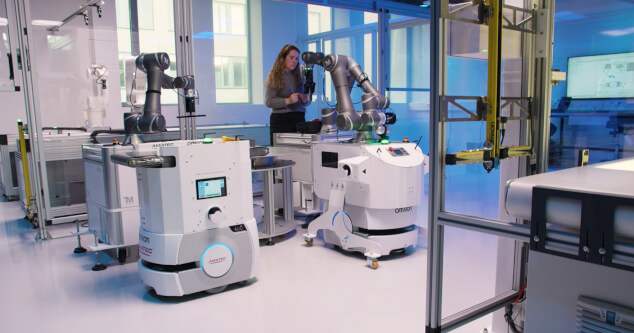 Factory harmony with mobile robots
Mobile robots are also beneficial in providing valuable support to companies with flexible production lines. For example, one coffee pod production company receives requests for very different pods, such as normal plastic or reusable, eco-friendly, different colours and different sizes. By implementing a fleet of
Omron's mobile robots
(tcm:355-97427)
that can manage the fluctuating demand across periods of time or two entirely different requests, it was able to achieve a more flexible environment within the plant. Being able to adapt and evolve will become even more relevant and important in the future.
Many solutions still rely on inflexible conveyor systems, whereas mobile robots provide the manufacturer with the flexibility to move stock and consumables to the required locations at the right time. Furthermore, mobile robots and cobots are very easy to train, easy to deploy and transportable, making them a useful companion in achieving more flexibility. Mobile robots can change routes quickly, dynamically avoiding obstacles or working on different priorities. They can be customised with special add-ons and accessories that allow for even more flexibility. In fact, the latest solution from OMRON combines cobot and mobile technology to offer a mobile manipulator or MoMa solution.
While robots show their advantages when it comes to flexibility, speed and accuracy, human colleagues can take care of business-critical issues, customer communication and daily individual tasks. Regarding the important aspect of ROI, companies should increasingly focus on releasing human labour to do value-added tasks, which is absolutely crucial for producers going forward. Furthermore, automation can fill a lack of experts in the labour market. Collaborative and mobile robots working alongside their human colleagues assist in lifting or transporting goods and material while also fulfilling tasks employees cannot do because of distance or safety rules.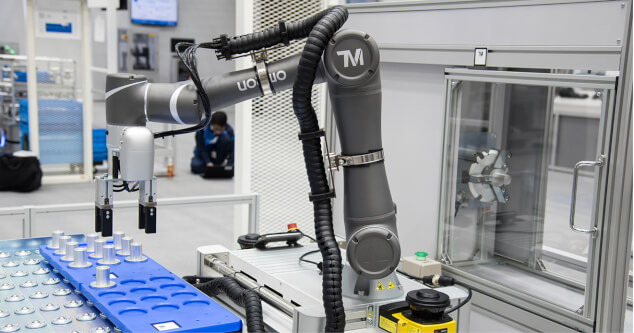 Financial flexibility with leasing options
For manufacturers to cater to current and future trends while addressing the labour gap, cobot and mobile robot technologies are an ideal solution. However, with the average cobot costing £18,000 ($24,000), accelerating automation on the factory floor simply might not be a viable option. This is particularly true for small and medium-sized enterprises (SMEs) that can't afford the upfront capital investment of such technologies.
To minimise the outlay costs and level the playing field for companies of all sizes, OMRON has developed a range of new leasing options. These are designed to make life easier for manufacturers that want to develop their own fleets of mobile robots or collaborative robots (cobots) but who need to keep their initial capital investment costs low. The cashflow flexibility that the new leasing options provide is an important consideration in these days of economic and business uncertainty. Leasing is an option that enables manufacturers to allocate their resources more efficiently and effectively, ensuring improved ROI as the cobot effectively pays for itself while the user spreads the cost.
To help companies to decide on the best leasing solution for their particular needs, OMRON has developed useful leasing calculators for both mobile robots and collaborative robots, which can be accessed from the relevant page on the company's website. This tool enables a manufacturer to gain a quick idea of the monthly costs of leasing mobile robots or cobots according to the number of robots the company needs and the length of the lease.
Find out more about the monthly costs of leasing:
Leasing calculator for mobile robots

(tcm:355-97427)

Leasing calculator for collaborative robots

(tcm:355-97549)