Ricciarelli's new horizontal cartoning machine for long pasta utilizes OMRON's vision systems to verify the effective closure of the packaging and perfect OCR/OCV marking. It offers the capability to control all variables from the HMI and integrate production data directly from the enterprise management system.
A global leader in the pasta-packaging sector, Ricciarelli SpA owes much of its success to its ability to tailor solutions to meet the changing needs of the sector's biggest brands. Such expertise is born out of over 150 years of experience in the food industry, but also the skills acquired in developing, implementing and installing complete integrated solutions. Be it packaging machines, case packers, weighing systems or palletization systems, Ricciarelli can certainly market itself as a one-stop shop for the development of innovative turnkey solutions.
One example of this is its latest horizontal cartoning machine for long pasta, a solution commissioned by a well-known Italian brand that required zero-defect manufacturing for its cartons. Taking on this ambitious challenge, Ricciarelli was supported OMRON, their main machine-vision provider and technical partner for on-site configuration and development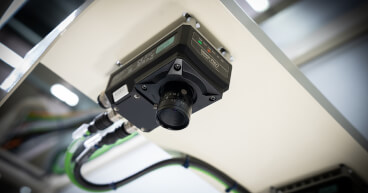 140 cartons per minute, zero defects
The new solution created by Ricciarelli and OMRON is a horizontal cartoning machine for long pasta in pre-glued and pre-folded cartons that can operate at high speeds (up to 140 cartons per minute) while guaranteeing perfect closure of the carton. Such a high packaging speed obviously required a high processing capacity, not only because of the amount of data going in but also to manage the variables involved. From the size and color of the packaging to its overall design, the customer required complete control over all sensitive parameters via the HMI (Human Machine Interface) as well as integration with the management software for defining and monitoring production data.