ABS Brake Assembly
Designing a next-generation braking system requires numerous cutting-edge automation technologies – including high-speed motion control, robotics, machine vision, factory data management and more. Seamlessly integrating all of these technologies is a major challenge that requires hours upon hours of engineering time – unless the technologies have been designed from the outset to work together and minimize integration time.
OMRON's technologies are specifically designed to comprise an end-to-end automation solution. With the powerful Sysmac platform, machine developers have complete control from a single environment that brings together logic, motion, vision and more.
Challenge
Nothing is simple when it comes to designing a next-generation braking system that can work seamlessly with various degrees of autonomous driving. The unique qualities of today's new vehicles offer at least some degree of driver-assist functionality. 
That fact along with the significant shift to produce more electric and hybrid vehicles will have a major impact on the design requirements for braking systems both now and in the future. These systems need to be fully integrated into all of the other systems that make up a vehicle, with the capability to act on their own accord while also responding appropriately to driver input.
Solution
To design the system responsible for manufacturing a next-generation braking systems, a tier supplier must choose a partner with high-quality technologies, a strong commitment to supporting them, and a wide-ranging automation portfolio to cover all the requirements of a complete solution. OMRON's solution incorporates state-of-the-art control functionality and pushes today's technology to the limits. 
With high-speed, coordinated motion control, robotics, vision and inspection technologies, factory data management and artificial intelligence, the solution draws upon the latest advances in machine control, communications and data analysis to produce a system that would not have been possible several years ago.
Sysmac er den nyeste maskinautomatiseringsplatform fra Omron med gennemført integration: fra controller til software.
Read more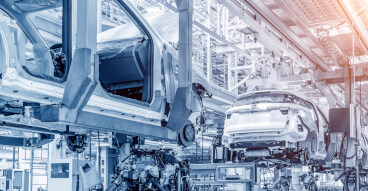 23. maj 2022 Current traceability challenges and solutions in automotive production and what to consider
Read more