Today's challenge: Material variations
Products can spoil before the expiry date when the package is not correctly airtight closed. A major issue that threatens the health of consumers and consequently the image of your company brand. The culprits often are inconsistent quality of materials or inaccurate sealing temperature measurements and control.
Handling such issues is particularly challenging when manufacturers move to greener materials or choose thinner films to reduce the virgin plastic used. OMRON's research shows that when eco/bio/recyclable film is used the required accuracy for temperature control changes from around 5°C to around 2°C.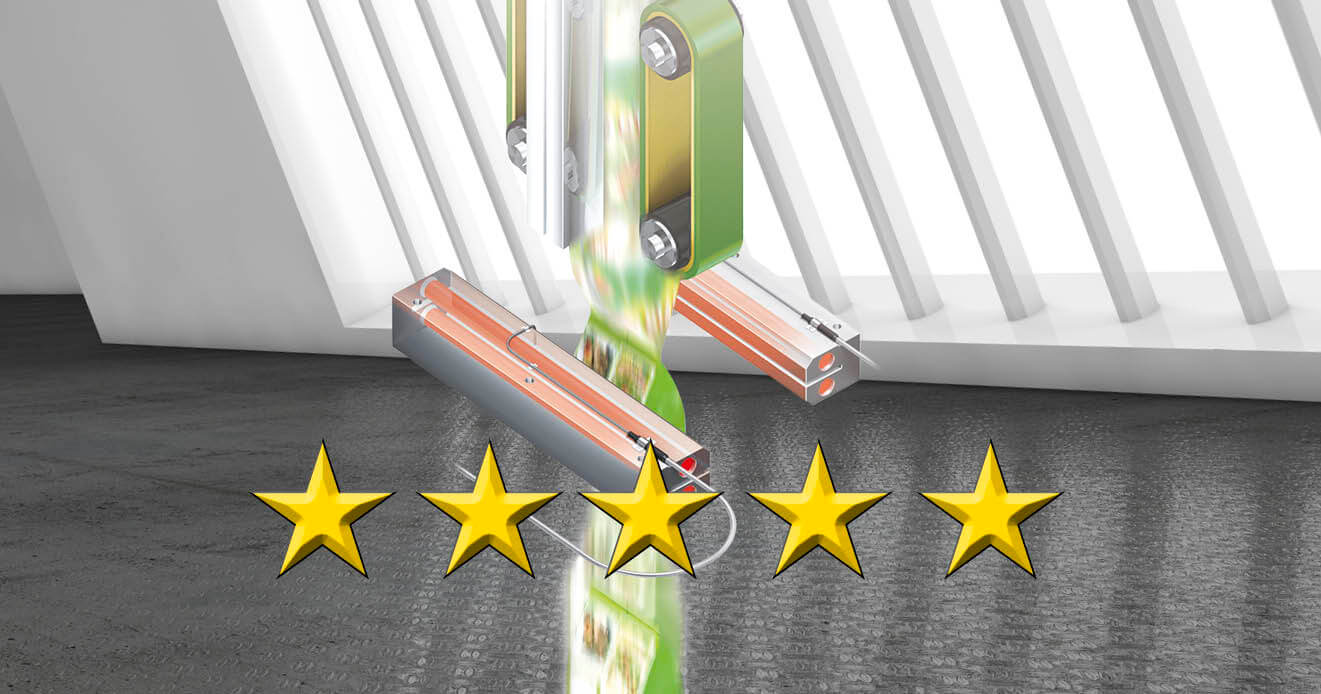 Our Solution: Patented, intelligent, and precise technology
We realize Perfect Sealing by using artificial intelligence in our temperature measurement and control solutions. Our sensors can be placed very close to the sealing jaw for more accurate temperature sensing and control. Disturbances in measurements are compensated making use of our patented Automatic Filter Adjustment technology.

Function Blocks from our Packaging Library ensure correct and tight in- and outfeed of the film, avoiding imperfections as buckles, wrinkles, and cracks. The result is a tight seal right from the very first pack. A seal that perfectly conserves contents and produces no rejects or scrap. Real time seal temperature control that aims for zero defects and zero waste!
Benefits of our Perfect Sealing solutions:
Easier adaptability for greener materials thanks to powerful AI algorithms

Consistent seal quality in frequent changeovers of different materials

Less waste of packaging and products

Higher accuracy in temperature control with patented noise reduction
See Our Solution in Action
Martini Packaging: New packaging line MCRS-VD with OMRON technology
During the pandemic since the beginning of 2020, the mass retail channels have experienced a growth in the demand for primary food products. To address this marked need, Martini has introduced a new packaging line MCRS-VD, a state-of-art solution for the weighing and primary packaging for pasta, cereals and legumes that reaches top class performances in terms of productivity, reliability and flexibility, with 2 different packaging formats on the same machine, pillow bag and double square. Production, reliability and flexibility are delivered thanks to the OMRON Sysmac Platform with the synchronous and real-time controller NX701-1600 that coordinates 34 1S servosystems, 6 inverters 3G3MX2 and many NX I/O nodes on EtherCAT fieldbus. Furthermore Martini chose the Perfect Sealing solution by OMRON to guarantee zero-defects sealing to avoid wastes caused by faulty sealings, reduce the changeover time and manage both thin and eco-friendly films. Higher productivity, flexibility and less waste are the key words for the future of packaging for Martini and OMRON. For more information, please visit: