OMRON opens doors to the factory of the future with updated Automation Center in Barcelona
OMRON's first Automation Center in Europe has recently received a major redesign and now includes an extensive demonstration area for innovative automation applications. Visitors can experience OMRON's full industrial automation solutions including robotics, quality control, flexible manufacturing and AI, and learn how to adapt their business to meet the changing needs of their customers and the society. The real-life demonstrations lead the way to the factory of the future.
The newly updated and expanded Automation Center in Barcelona, Spain, enables OMRON's customers across EMEA to truly experience the benefits of a connected, automated and intelligent factory. A team of more than 20 highly skilled engineers collaborates with OMRON Automation Centers across the world to explore the use of new technologies, such AI and industrial IoT, to develop solutions tailored to customer needs. The team can demonstrate the full capabilities of OMRON's innovative applications on site or via a remote connection. The facility boasts over 800 square meters of floor space, only 20 minutes from Barcelona International Airport.
Antoni Farràs, General Manager at the OMRON Automation Center Barcelona, comments: "We aim to inspire manufacturers, system integrators and machine builders to adapt their business to meet the changing needs of customers and society. Farràs continues: "Our goal is to help them realize the possibilities of innovative manufacturing. For example, to address current challenges by creating new solutions to respond to and recover from the global pandemic."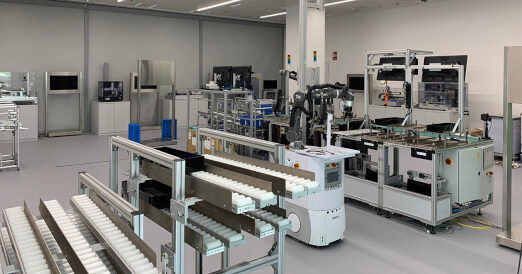 The updated facility reinforces OMRON's reputation as the thought leader in factory automation technology designed to solve social issues, improve lives and contribute to a better society. With the help of the Automation Center, OMRON turns automation concepts into real-life innovate applications. The facilities are designed to present the full capabilities of OMRON's i-Automation! concept of integrated, interactive, and intelligent solutions, including its comprehensive portfolio of control, motion, vision, safety, and robotics technologies combined with global engineering and services capabilities.
"We are very proud of the new design and the captivating customer experience we can now offer, showcasing our capabilities as an innovative partner in manufacturing." Farràs concludes.
To arrange a visit, please contact your local OMRON office.
Følg Omron Industrial Automation på LinkedIn