OMRON, NOKIA and Dassault Systèmes harness the power of 5G and virtual twins at Hannover Messe
Demonstrations on display at OMRON's booth F24 in Hall 9 at Hannover Messe 2023 (17- 21 April 2023)
Three global technology leaders - OMRON, Nokia, and Dassault Systèmes - will join forces at Hannover Messe to drive the advancement of IoT solutions in industrial settings. The collaborations leverage OMRON's factory automation expertise, Nokia's 5G private wireless technology and Dassault Systèmes' virtual twin experiences to harness the potential of Industry 4.0. At Hannover Messe, the advantages of this synergistic approach to smart automation will be illustrated in an autonomous and flexible production line on OMRON's booth.
The application demonstrations involving three visionary companies will highlight the potential of digital transformation in automation. Nokia's secure 5G private wireless networks facilitate high-speed communication between machines, people, and devices; the virtual twin capabilities of Dassault Systèmes enable real-time monitoring and optimization; and OMRON brings innovation to life with intelligent, integrated, and interactive automation.
This complementary expertise can be channeled into the development of IoT based automation solutions for the automotive, fast moving consumer goods (FMCG), pharmaceutical and medical device industries. At Hannover Messe, OMRON's booth will showcase examples of factory applications where integrating automation, high-speed connectivity and virtual twin technology brings tangible benefits.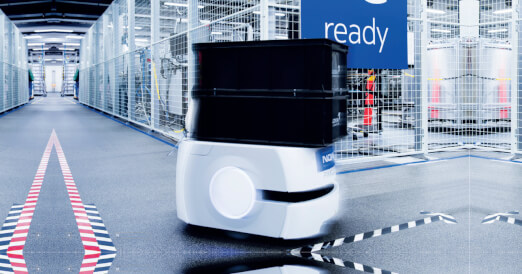 Application #1: Autonomous and flexible production mirrored via a virtual twin
Dassault Systèmes has developed a virtual twin of an OMRON autonomous and flexible production solution to illustrate the planning, optimization and efficiency benefits of virtual simulation. "Our virtual twin experiences accelerate digitalization and respond to calls from the industrial equipment industry for solutions that enable them to reduce time to market by developing the product and the production process simultaneously," Philippe Bartissol, Vice President Industrial Equipment Industry at Dassault Systèmes comments. The virtual twin technology from Dassault Systèmes facilitates flexibility and efficiency by providing capabilities for simulating the robot's pathways and designing new workflows.
"Our customers are under pressure to bring products to market within very short time frames, which is driving demand for virtual twin software solutions that allow production line designs to be tested and manipulated in a virtual environment. Not only does this reduce development time, it also de-risks and cost optimizes projects, by enabling companies to make changes before investing in automation and connectivity infrastructure," says Benjamin Papst, Regional Marketing Manager at OMRON Europe.
Application #2: Intelligent transport with mobile robots and collaborative robots within a 5G private network
In an intelligent and autonomous transport application, the OMRON LD mobile robot benefits from seamless connectivity that can be provided by Nokia's 5G private wireless network technology. Designed with another customer challenge - labor availability - in mind, this application shows how easy it is to teach collaborative and mobile robots to perform repetitive tasks without any need for programming. On the factory floor, the robots can be connected to a control system that operates within a secure private wireless network, enabling high-speed communication and the handling of complex data, to drive real-time data optimization. This delivers the IoT capabilities to meet the needs of current and future AMR deployments in factory automation.
"Private wireless 4.9G and 5G with integrated on-premise edge computing opens up a new world of opportunity for driving production efficiency. With more predictable performance, it allows for higher volumes of data to be transferred within the network,  and more devices to be integrated- from sensors and controllers to drives. It means enabling users with more real time information on the production process. With real time data being processed on the Nokia MX Industrial Edge, customers can leverage opportunities related to situational awareness, predictive maintenance, increased automation as well as algorithms that optimize machine energy use," explains, Stephan Litjens, VP of Enterprise Campus Edge business at Nokia.
Benjamin Papst concludes: "Although these two applications are just tiny slices of the whole 'production pie', they will give visitors a taste of what is possible with automation when market leading technologies are integrated."
About OMRON Corporation
OMRON Corporation is a global leader in the field of automation based on its core technology of "Sensing & Control + Think". OMRON's business fields cover a broad spectrum, ranging from industrial automation and electronic components to social systems, healthcare, and environmental solutions. Established in 1933, OMRON has about 30,000 employees worldwide, working to provide products and services in around 120 countries and regions.
About Nokia
At Nokia, we create technology that helps the world act together. As a B2B technology innovation leader, we are pioneering networks that sense, think and act by leveraging our work across mobile, fixed and cloud networks. In addition, we create value with intellectual property and long-term research, led by the award-winning Nokia Bell Labs. Service providers, enterprises and partners worldwide trust Nokia to deliver secure, reliable and sustainable networks today – and work with us to create the digital services and applications of the future.
About Dassault Systèmes
Dassault Systèmes, the 3DEXPERIENCE Company, is a catalyst for human progress. We provide business and people with collaborative 3D virtual environments to imagine sustainable innovations. By creating virtual twin experiences of the real world with our 3DEXPERIENCE platform and applications, our customers push the boundaries of innovation, learning and production to achieve a more sustainable world for patients, citizens, and consumers. Dassault Systèmes brings value to more than 300,000 customers of all sizes, in all industries, in more than 140 countries. For more information, visit their website.
Følg Omron Industrial Automation på LinkedIn