Disinfection solution with UV-equipped mobile robots
OMRON joins forces with partners to provide a new disinfection solution with UV-equipped mobile robots.
More and more hospitals, institutions and companies are turning to automation to disinfect rooms and public spaces.
The need for additional hygiene procedures following the current COVID-19 pandemic has ignited new fields of application for innovative robotics for disinfecting various spaces. In this context, analysts from ABI Research forecast that the mobile robotics market will reach a volume of 23 billion US dollars by 2021. Automation expert OMRON and its partners across the world have joined forces to automate disinfection processes.
The strict hygiene and safety regulations associated with the pandemic, present hospitals and public institutions with the challenge of finding new approaches and technologies. Mobile robots mounted with ultraviolet (UV) light attachments are ideal for disinfecting hospital rooms, shopping centres and other public spaces. The automation of disinfection with ultraviolet light improves health and safety, thus contributing to the fight against COVID-19. Mobile robots are ideal to be used with the UV lamps, which are not safe for humans to operate.
UV light attachments for OMRON LD mobile robots
UV light can kill bacteria, germs and viruses efficiently – especially on surfaces and in areas of public life that cannot be continuously cleaned with disinfectants. UV is already used widely in applications including drinking water treatment, disinfection of ventilation systems and in food production. In combination with mobile robots, UV light disinfection can be achieved automatically, precisely, quickly and efficiently. In this respect, automation expert OMRON relies on the cooperation with experienced partners across the world such as ControlTec in Poland, FM Vision and Meridionale Impianti in Italy, Mipelsa in Spain, DoF Robotics in Turkey, and Meanwhile SAS in France, who have installed this UV technology on OMRON's LD mobile robots. The units are used in hospitals, supermarkets, hotels, schools, airports as well as restaurants worldwide to effectively eliminate viruses and bacteria.
The OMRON LD 60/90 (tcm:355-80433) autonomous mobile robots are ideal for disinfecting various areas, as unlike traditional AGVs, they navigate by the natural features of the facility and require no expensive facility modification. Safety lasers and sonar allow the robots to detect obstacles in their path and prevent collisions. Multiple mobile robots can operate within a facility as a fleet thanks to OMRON's fleet management software.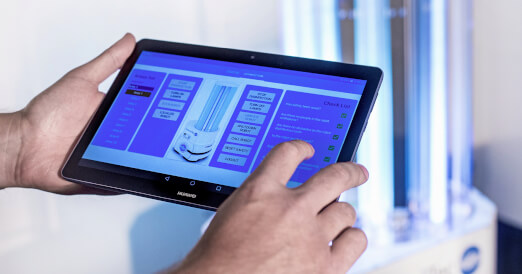 Innovative alternatives for increased safety and flexibility
Bruno Adam, Mobile Robots General Manager at OMRON Europe comments: "The pandemic poses huge challenges for many companies and institutions. Many of them have realized that automated processes, innovative robotics and technologies such as UV disinfection can provide them with valuable support in coping with this challenge. Such applications relieve the burden on employees while improving safety and meeting regulations. OMRON's experts and partners can provide comprehensive information and advice on which technology is best suited for which field of application."
Følg Omron Industrial Automation på LinkedIn