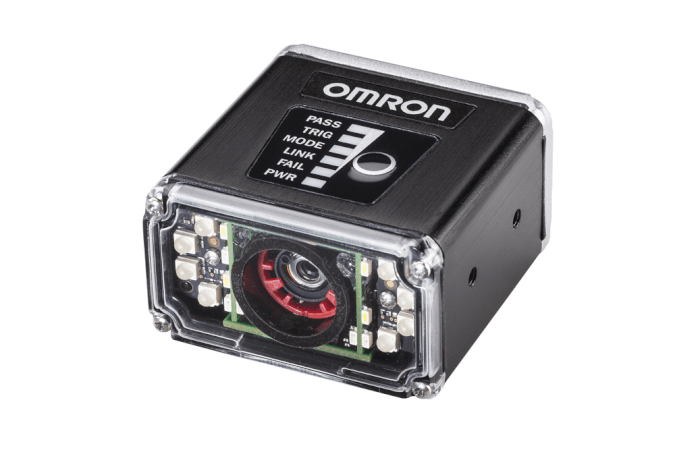 V430-F
V430-F Industrial Ethernet Barcode Reader
The V430-F redefines the imager market as the smallest IP65/67-rated, true-industrial Ethernet barcode reader. With best-in-class decoding for 1D/2D or DPM codes in a rugged, ultra-compact case, the V430-F is the complete package for solving any barcode reading challenge under any condition. Combining unprecedented ease-of-use, exceptional decode performance, optional liquid lens autofocus, and ultra-small form factor, the V430-F sets the benchmark as the ultimate compact imager in the industry.
Ultra-compact (44.5 mm x 44.5 mm x 25.4 mm)
IP65/67 
High-speed Ethernet, Serial RS-232
X-Mode advanced decoding algorithms
Optional liquid lens autofocus
EtherNet/IP , Ethernet TCP/IP 
Passive Power over Ethernet (PoE)
Integrated targeting and read/pass indicators
WebLink browser-based setup interface
Supported Barcode, 2D and Postal Symbology's.
Specifications & ordering info
| Produkt | Number of pixels | Camera type | Autofocus | Focus distance | Field of view (width) | Decoder type | Frame rate | Illumination | Image width | Image height | Shutter type | Communication port(s) | Digital output type | Degree of protection (IP) | Description | |
| --- | --- | --- | --- | --- | --- | --- | --- | --- | --- | --- | --- | --- | --- | --- | --- | --- |
| | 1.2 MP | Monochrome | Yes | 75-1200 mm | 23-417 mm | Plus Mode (high-speed 1D+2D) | 42 fps | Inner LEDs only | 1280 pixels | 960 pixels | Global | EtherNet/IP, Ethernet TCP/IP, PROFINET Slave, Serial RS-232C | PNP | IP65/IP67 | V430 Code Reader, 1.2 MP Monochrome, Long range, Autofocus 75-1200 mm, No outer light, 1D/2D, Ethernet TCP/IP, EtherNet/IP, PROFINET, IP65/IP67 | |
| | 1.2 MP | Monochrome | Yes | 75-1200 mm | 23-417 mm | X-Mode (advanced 1D+2D+DPM) | 42 fps | Inner LEDs only | 1280 pixels | 960 pixels | Global | EtherNet/IP, Ethernet TCP/IP, PROFINET Slave, Serial RS-232C | PNP | IP65/IP67 | V430 Code Reader, 1.2 MP Monochrome, Long range, Autofocus 75-1200 mm, No outer light, X-Mode, Ethernet TCP/IP, EtherNet/IP, PROFINET, IP65/IP67 | |
| | 1.2 MP | Monochrome | Yes | 75-1200 mm | 23-417 mm | Plus Mode (high-speed 1D+2D) | 42 fps | Red LED | 1280 pixels | 960 pixels | Global | EtherNet/IP, Ethernet TCP/IP, PROFINET Slave, Serial RS-232C | PNP | IP65/IP67 | V430 Code Reader, 1.2 MP Monochrome, Long range, Autofocus 75-1200 mm, Red light, 1D/2D, Ethernet TCP/IP, EtherNet/IP, PROFINET, IP65/IP67 | |
| | 1.2 MP | Monochrome | Yes | 75-1200 mm | 23-417 mm | X-Mode (advanced 1D+2D+DPM) | 42 fps | Red LED | 1280 pixels | 960 pixels | Global | EtherNet/IP, Ethernet TCP/IP, PROFINET Slave, Serial RS-232C | PNP | IP65/IP67 | V430 Code Reader, 1.2 MP Monochrome, Long range, Autofocus 75-1200 mm, Red light, X-Mode, Ethernet TCP/IP, EtherNet/IP, PROFINET, IP65/IP67 | |
| | 1.2 MP | Monochrome | Yes | 75-1200 mm | 23-417 mm | Plus Mode (high-speed 1D+2D) | 42 fps | White LED | 1280 pixels | 960 pixels | Global | EtherNet/IP, Ethernet TCP/IP, PROFINET Slave, Serial RS-232C | PNP | IP65/IP67 | V430 Code Reader, 1.2 MP Monochrome, Long range, Autofocus 75-1200 mm, White light, 1D/2D, Ethernet TCP/IP, EtherNet/IP, PROFINET, IP65/IP67 | |
| | 1.2 MP | Monochrome | Yes | 75-1200 mm | 23-417 mm | X-Mode (advanced 1D+2D+DPM) | 42 fps | White LED | 1280 pixels | 960 pixels | Global | EtherNet/IP, Ethernet TCP/IP, PROFINET Slave, Serial RS-232C | PNP | IP65/IP67 | V430 Code Reader, 1.2 MP Monochrome, Long range, Autofocus 75-1200 mm, White light, X-Mode, Ethernet TCP/IP, EtherNet/IP, PROFINET, IP65/IP67 | |
| | 0.3 MP | Monochrome | Yes | 50-300 mm | 34-183 mm | Plus Mode (high-speed 1D+2D) | 60 fps | Inner LEDs only | 752 pixels | 480 pixels | Global | EtherNet/IP, Ethernet TCP/IP, PROFINET Slave, Serial RS-232C | PNP | IP65/IP67 | V430 Code Reader, 0.3 MP Monochrome, Medium view, Autofocus 50-300 mm, No outer light, 1D/2D, Ethernet TCP/IP, EtherNet/IP, PROFINET, IP65/IP67 | |
| | 0.3 MP | Monochrome | Yes | 50-300 mm | 34-183 mm | X-Mode (advanced 1D+2D+DPM) | 60 fps | Inner LEDs only | 752 pixels | 480 pixels | Global | EtherNet/IP, Ethernet TCP/IP, PROFINET Slave, Serial RS-232C | PNP | IP65/IP67 | V430 Code Reader, 0.3 MP Monochrome, Medium view, Autofocus 50-300 mm, No outer light, X-Mode, Ethernet TCP/IP, EtherNet/IP, PROFINET, IP65/IP67 | |
| | 0.3 MP | Monochrome | Yes | 50-300 mm | 34-183 mm | Plus Mode (high-speed 1D+2D) | 60 fps | Red LED | 752 pixels | 480 pixels | Global | EtherNet/IP, Ethernet TCP/IP, PROFINET Slave, Serial RS-232C | PNP | IP65/IP67 | V430 Code Reader, 0.3 MP Monochrome, Medium view, Autofocus 50-300 mm, Red light, 1D/2D, Ethernet TCP/IP, EtherNet/IP, PROFINET, IP65/IP67 | |
| | 0.3 MP | Monochrome | Yes | 50-300 mm | 34-183 mm | X-Mode (advanced 1D+2D+DPM) | 60 fps | Red LED | 752 pixels | 480 pixels | Global | EtherNet/IP, Ethernet TCP/IP, PROFINET Slave, Serial RS-232C | PNP | IP65/IP67 | V430 Code Reader, 0.3 MP Monochrome, Medium view, Autofocus 50-300 mm, Red light, X-Mode, Ethernet TCP/IP, EtherNet/IP, PROFINET, IP65/IP67 | |
| | 0.3 MP | Monochrome | Yes | 50-300 mm | 34-183 mm | Plus Mode (high-speed 1D+2D) | 60 fps | White LED | 752 pixels | 480 pixels | Global | EtherNet/IP, Ethernet TCP/IP, PROFINET Slave, Serial RS-232C | PNP | IP65/IP67 | V430 Code Reader, 0.3 MP Monochrome, Medium view, Autofocus 50-300 mm, White light, 1D/2D, Ethernet TCP/IP, EtherNet/IP, PROFINET, IP65/IP67 | |
| | 0.3 MP | Monochrome | Yes | 50-300 mm | 34-183 mm | X-Mode (advanced 1D+2D+DPM) | 60 fps | White LED | 752 pixels | 480 pixels | Global | EtherNet/IP, Ethernet TCP/IP, PROFINET Slave, Serial RS-232C | PNP | IP65/IP67 | V430 Code Reader, 0.3 MP Monochrome, Medium view, Autofocus 50-300 mm, White light, X-Mode, Ethernet TCP/IP, EtherNet/IP, PROFINET, IP65/IP67 | |
| | 1.2 MP | Monochrome | Yes | 50-300 mm | 34-183 mm | Plus Mode (high-speed 1D+2D) | 42 fps | Inner LEDs only | 1280 pixels | 960 pixels | Global | EtherNet/IP, Ethernet TCP/IP, PROFINET Slave, Serial RS-232C | PNP | IP65/IP67 | V430 Code Reader, 1.2 MP Monochrome, Medium view, Autofocus 50-300 mm, No outer light, 1D/2D, Ethernet TCP/IP, EtherNet/IP, PROFINET, IP65/IP67 | |
| | 1.2 MP | Monochrome | Yes | 50-300 mm | 34-183 mm | X-Mode (advanced 1D+2D+DPM) | 42 fps | Inner LEDs only | 1280 pixels | 960 pixels | Global | EtherNet/IP, Ethernet TCP/IP, PROFINET Slave, Serial RS-232C | PNP | IP65/IP67 | V430 Code Reader, 1.2 MP Monochrome, Medium view, Autofocus 50-300 mm, No outer light, X-Mode, Ethernet TCP/IP, EtherNet/IP, PROFINET, IP65/IP67 | |
| | 1.2 MP | Monochrome | Yes | 50-300 mm | 34-183 mm | X-Mode (advanced 1D+2D+DPM) | 42 fps | Red LED ring | 1280 pixels | 960 pixels | Global | EtherNet/IP, Ethernet TCP/IP, PROFINET Slave, Serial RS-232C | PNP | IP65/IP67 | V430 Code Reader, 1.2 MP Monochrome, Medium view, Autofocus 50-300 mm, Red ring light, X-Mode, Ethernet TCP/IP, EtherNet/IP, PROFINET, IP65/IP67 | |
| | 1.2 MP | Monochrome | Yes | 50-300 mm | 34-183 mm | X-Mode (advanced 1D+2D+DPM) | 42 fps | White LED ring | 1280 pixels | 960 pixels | Global | EtherNet/IP, Ethernet TCP/IP, PROFINET Slave, Serial RS-232C | PNP | IP65/IP67 | V430 Code Reader, 1.2 MP Monochrome, Medium view, Autofocus 50-300 mm, White ring light, X-Mode, Ethernet TCP/IP, EtherNet/IP, PROFINET, IP65/IP67 | |
| | 1.2 MP | Monochrome | Yes | 50-300 mm | 34-183 mm | Plus Mode (high-speed 1D+2D) | 42 fps | Red LED | 1280 pixels | 960 pixels | Global | EtherNet/IP, Ethernet TCP/IP, PROFINET Slave, Serial RS-232C | PNP | IP65/IP67 | V430 Code Reader, 1.2 MP Monochrome, Medium view, Autofocus 50-300 mm, Red light, 1D/2D, Ethernet TCP/IP, EtherNet/IP, PROFINET, IP65/IP67 | |
| | 1.2 MP | Monochrome | Yes | 50-300 mm | 34-183 mm | X-Mode (advanced 1D+2D+DPM) | 42 fps | Red LED | 1280 pixels | 960 pixels | Global | EtherNet/IP, Ethernet TCP/IP, PROFINET Slave, Serial RS-232C | PNP | IP65/IP67 | V430 Code Reader, 1.2 MP Monochrome, Medium view, Autofocus 50-300 mm, Red light, X-Mode, Ethernet TCP/IP, EtherNet/IP, PROFINET, IP65/IP67 | |
| | 1.2 MP | Monochrome | Yes | 50-300 mm | 34-183 mm | Plus Mode (high-speed 1D+2D) | 42 fps | White LED | 1280 pixels | 960 pixels | Global | EtherNet/IP, Ethernet TCP/IP, PROFINET Slave, Serial RS-232C | PNP | IP65/IP67 | V430 Code Reader, 1.2 MP Monochrome, Medium view, Autofocus 50-300 mm, White light, 1D/2D, Ethernet TCP/IP, EtherNet/IP, PROFINET, IP65/IP67 | |
| | 1.2 MP | Monochrome | Yes | 50-300 mm | 34-183 mm | X-Mode (advanced 1D+2D+DPM) | 42 fps | White LED | 1280 pixels | 960 pixels | Global | EtherNet/IP, Ethernet TCP/IP, PROFINET Slave, Serial RS-232C | PNP | IP65/IP67 | V430 Code Reader, 1.2 MP Monochrome, Medium view, Autofocus 50-300 mm, White light, X-Mode, Ethernet TCP/IP, EtherNet/IP, PROFINET, IP65/IP67 | |