ZEN-20C
Extended flexible automation
With the ZEN-20 I/O you get in one unit 12 Inputs and 8 Outputs relays or transistor. Herewith you can do a lot of bigger scale automation whereas the 10 I/O versions are just to short of I/O's. The 20 I/O unit is available in three different versions starting from C1 with LCD display, control/ program buttons, calendar and clock or C2 with LED status indication or C3 same as C1 but fixed I/O.
ZEN-20C1/C2 expandable up to 44 I/Os
ZEN DC units have analogue input 0-10 VDC
DC models have as well high speed counter 150 Hz.
Expansion available with relay output or transistor output
Specifications & ordering info
Ordering information
Work bits (M)
Holding bits (H)
Timers (T)
Counters (C)
Weekly timers (☐)
LCD display (D)
Timer/counter
comparator (P)
Specifications
12 characters x 4 lines, with backlight (LCD-type CPU unit only)

8 (4 cursor keys and 4 operation keys) (LCD-type CPU unit only)
Accessories
| | | |
| --- | --- | --- |
| | | |
| | Battery (keeps time, date and bit values for 10 years at 25°C) | |
| | For the programming software, RS-232C cable, 9-way `D' connector for PC | |
| | USB-Serial conversion cable (to be used in combination with ZEN-CIF01) | |
| | | |
How can we help you?
If you have a question or would like to ask for a quote, please contact us or send a request.
+ 45 43 44 00 11
Contact us
Kontakt mig ZEN-20C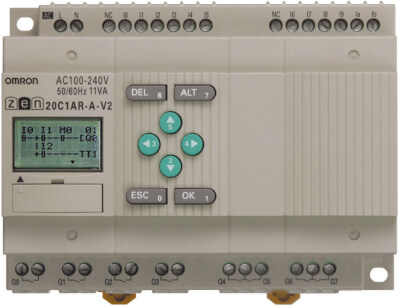 Tak for indsendelsen af din forespørgsel. Vi vil vende tilbage med svar så hurtigt som muligt.
Vi har desværre tekniske problemer. Din formular er ikke modtaget. Vi undskylder og beder dig om at prøve igen senere. Detaljer: [details]
Download
Request quotation
Request quotation
Tilbud på ZEN-20C
Med denne formular kan du bestille et tilbud på et eller flere af vores produkter. Venligst udfyld alle de felter der er markeret med *. Dine personlige oplysninger vil blive håndteret fortroligt.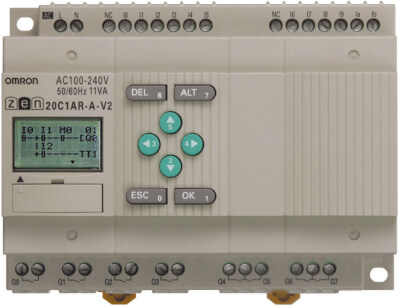 Tak for din forespørgsel. Vi vender tilbage med de ønskede oplysninger så hurtigt som muligt.
Vi har desværre tekniske problemer. Din formular er ikke modtaget. Vi undskylder og beder dig om at prøve igen senere. Detaljer: [details]
Download