Material Handling
The ongoing issue of labor shortage coupled with the need for a flexible manufacturing environment poses a major issue for automotive manufactures. OMRON's collaborative and fixed robotics technologies provide solutions for overcoming these challenges.
Challenge
Automotive manufacturers are working to eliminate repetitive tasks of machine operators and offer highly skilled opportunities to workers. They are also challenged with the need for flexibility to increase throughput and lower the time-to-market, all while responding as quickly as possible to variations in demand. The emergence of EVs to the market is driving the variations now more than ever.
OMRON's collaborative robots can improve throughput and consistency of repetitive or complex assembly tasks while working alongside people. Our articulated robotic solutions enable flexible manufacturing by providing seamless integration of robots and machine control. They are best suited for applications requiring fast and precise automation.
Solution
As we move towards automating factories of the future, OMRON Mobile Manipulators, or MoMas, provide total flexibility in handling and operational mobility. Combining a collaborative robot and a mobile robot, the MoMa is a new breed of robot with all the benefits and none of the limitations of these technologies. By mounting an OMRON TM collaborative robotic arm onto an OMRON LD series autonomous mobile robot, the robotic arm is capable of picking up a product and placing it on the payload, as the mobile robot autonomously travels to various locations.
Ideal uses for the Mobile Manipulator
Pick and place applications
Machine tending and inspection
Material transportation
Picking boxes of assembled parts to the inspection station
Automobile inspections (e.g., cracks or paint on moving products)
OMRON TM-robotter er rettet mod producenter, der har fokus på fremtiden og vil sætte skub i produktionen. Cobots er ideelle kolleger, der automatiserer ensformige og gentagne opgaver som f.eks. maskinpasning, læsning og aflæsning eller montageopgaver.
Read more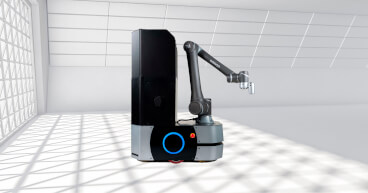 The unique cobot and mobile robot hybrid concept solution from OMRON
Read more