The unique cobot and mobile robot hybrid concept solution from OMRON
The OMRON Mobile Manipulator Solution is a robotics solution that automates not only transportation of goods but also complicated picking operations.
Combining a collaborative robot and a mobile robot, the Mobile Manipulator hybrid concept, or MoMa, is a new breed of robot with all the benefits and none of the limitations of these technologies. It consists of a mobile, wheeled base, a highly dexterous collaborative robotic arm, together with integrated machine vision technology. 
By mounting an OMRON TM collaborative robotic arm onto an OMRON LD series autonomous mobile robot, the robotic arm is capable of picking up a product and placing it on the payload, as the mobile robot autonomously travels to various locations.
The MoMa provides total flexibility in handling and operational mobility.
The Mobile Manipulator solution is ideal for:
Pick and place applications

Machine tending and inspection

Material transportation

Picking boxes of assembled parts to the inspection station

Automobile inspections (e.g., cracks or paint on moving products)
When part of an integrated production line, MoMa can be automatically redeployed for multiple tasks as needed, increasing flexibility in production.
While OMRON doesn't sell the fully integrated mobile manipulator as a product, we provide robotics that are designed to be easily integrated. Integration guides and integrator partners are available today for customer solutions:
Contact me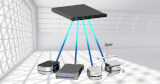 OMRON Fleet Simulator offers the industry's first mobile robot simulator for factory and manufacturing applications.
Read more