Today's Challenge: Reliable data collection
Traceability is all about reliable data collection at all stages of manufacturing, without impacting production efficiency. Existing manufacturing lines that have not been designed for traceability require updates to comply with directives. Custom machine modifications can be costly and take a long time to implement.
Traceability systems need to deliver their data to databases, MES- and ERP systems while keeping up with production speeds. Ambitious compliance deadlines leave very little time for system implementation. The challenge is to realize reliable data collection with limited implementation costs.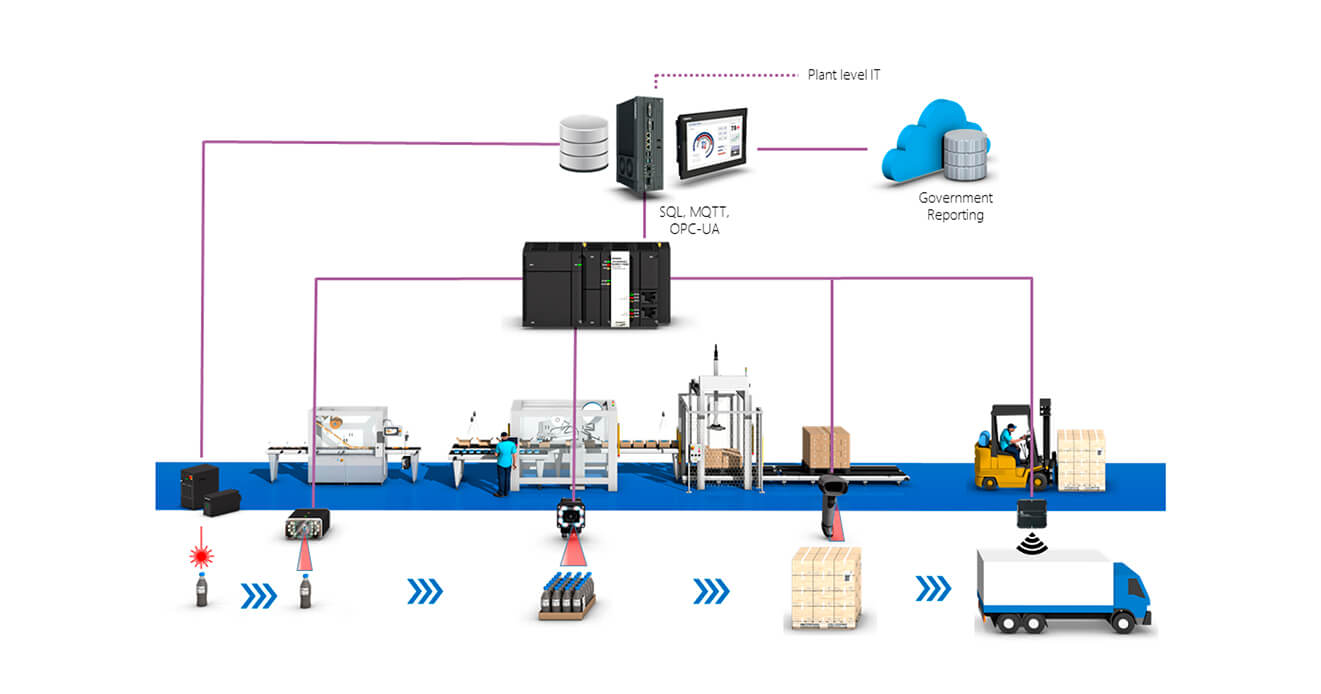 Our Solution: Cost saving implementation control
With our database enabled controllers, the traceability system can be implemented separately from existing machine automation, avoiding costly modifications and dependence on machine builders.
Our traceability controllers, combined with OMRON data capture devices, offer a low cost of implementation by greatly reducing the time needed for development and commissioning. The HMI panels, uninterruptable power supplies, and sensors needed to complete the traceability solution are readily available from our extensive automation portfolio.
Benefits of our communication & implementation solutions
Fast installation and commissioning

Transparent data delivery with built-in SQL and MQTT capabilities

Easy handling of rejects and triggering through integrated automation capability

Transparent integration with a standardized interface for all OMRON data collection devices

Non-intrusive retrofit data collection solution independent from existing line control systems
Reliably collecting traceability data for fast moving consumer goods requires reliable communication between all data capture devices and the traceability system. OMRON has developed the traceability toolbox for it's Sysmac line of controllers for seamless communication with OMRON barcode scanners, vision systems and RF ID readers. The Traceability toolbox contains standardized function blocks that allow system integrators to quickly create data capture solutions in Sysmac Studio and be confident about performance and reliability.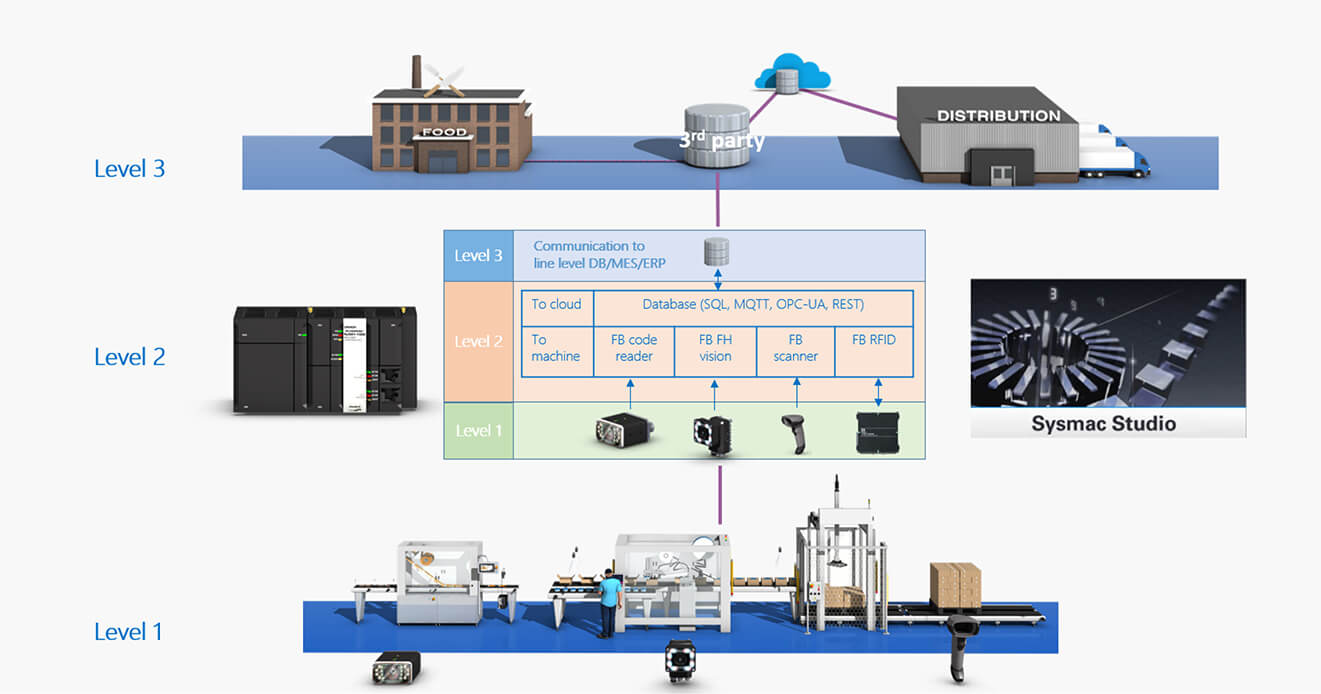 The OMRON traceability toolbox supports the following data capture devices:
V330-F/V430-F/V440-F code readers
F330-F/F430-F vision sensors
FH / FH-V7 vision systems
V680S RFID systems
V450-H/V410-H handheld scanners
Download the Traceability Toolbox
See Our Solution in Action
See here how we can help you optimize processes, reduce costs and improve quality.
OMRON Traceability - Automotive
Omron Traceability Solution for Automotive Industry is here to help you optimize processes, reduce costs and improve quality. Having a strong product traceability is critical in allowing manufacturers to identify faulty or risk products and initialize a quick and focused containment through the relevant corrective actions or recalls. Having the ability to quickly identify the non-conforming parts or vehicles can accelerate the containment process by reducing checks on unaffected vehicles. This greatly reduces the costs and improves overall efficiency. To find out more, please send your enquiry to: apac_enquiry@
See also our other Key Applications & Solutions