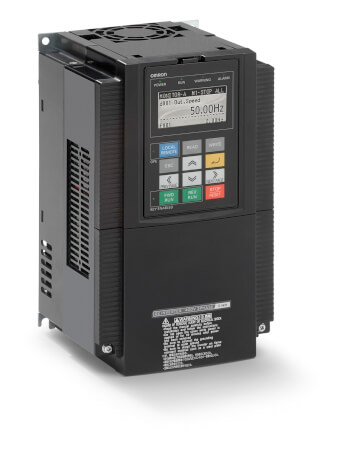 RX
Customised to your machine
Omron realises that you need quality and reliability, plus the ability to easily and quickly customise your inverter to the application in hand. And with the RX, you have the perfect tool for the job. Naturally it combines the same high level of quality and performance for which Omron is renowned. It also has abundant application functionality on board and you can customise it yourself to match your precise requirements.
Ratings up to 132 kW
Full torque at 0 Hz in closed loop
Sensor-less and vector closed-loop control
Built-in EMC filter, logic programming and application functionality
Fieldbus communications: Modbus, DeviceNet, PROFIBUS, MECHATROLINK-II, EtherCAT and CompoNet
Regenerative solutions as option
CE, cULus, RoHS
Specifications & ordering info
Ordering information
3G3RX
A Rasmi line filter
A Input AC reactors
A DC reactors
A Chokes
A Output AC Reactor
Note: This table corresponds with HD rating. When ND is used, please choose the reactor for the next size inverter.
B Accessories
5 line LCD digital operator with copy function1
C Option boards
Phase A,B and Z pulse (differential pulse) inputs (RS-422)

Pulse train position command input (RS-422)

Used for running or stopping the inverter, setting or referencing parameters, and monitoring output frequency, output current ... through communications with the host controller

8 digital inputs, 8 digital outputs, 4 analog inputs, 1 analog output
D DC Supply with Regenerative Active Front End
Note: The DC Supply with Regenerative Active Front End kit includes a Regenerative DC bus supply, low harmonic filter and EMC filter.
D Regenerative Braking unit
D Braking unit, braking resistor unit
E Computer software
Specifications
200 V class
Max. applicable motor 4P kW2
400 V class
Max. applicable motor 4P kW3
Dimensions
---
Accessories
Regenerative accessories
DC Supply with Regenerative Active Front End system
Regenerative DC bus supply
Low harmonic filter
IRMS current A2

Heat loss W1
Regenerative Braking unit system
Regenerative Braking unit for Low Duty applications (50%)
Regenerative Braking unit for High Duty applications
---
How can we help you?
If you have a question or would like to ask for a quote, please contact us or send a request.
+ 45 43 44 00 11
Contact us
Kontakt mig RX
Tak for indsendelsen af din forespørgsel. Vi vil vende tilbage med svar så hurtigt som muligt.
Vi har desværre tekniske problemer. Din formular er ikke modtaget. Vi undskylder og beder dig om at prøve igen senere. Detaljer: [details]
Download
Request quotation
Request quotation
Tilbud på RX
Med denne formular kan du bestille et tilbud på et eller flere af vores produkter. Venligst udfyld alle de felter der er markeret med *. Dine personlige oplysninger vil blive håndteret fortroligt.
Tak for din forespørgsel. Vi vender tilbage med de ønskede oplysninger så hurtigt som muligt.
Vi har desværre tekniske problemer. Din formular er ikke modtaget. Vi undskylder og beder dig om at prøve igen senere. Detaljer: [details]
Download