E32 Længere afstande
Longer distance fiber sensor heads
With built-in focal lenses the longer distance fiber heads provide enhanced operational stability in dusty environments or long distance applications
Sensing distance up to 20 m
Built-in focal lens
Sizes from dia 2mm to M14
Specifications & ordering info
| Produkt | Sensing method | Shape | Size | Diameter sensor | Features | Temperature range | Sensing distance | Cable length | Description |
| --- | --- | --- | --- | --- | --- | --- | --- | --- | --- |
| | Diffuse reflective | Threaded | M6 | 6 mm | | -40-70 °C | | 2 m | Photoelectric sensor optical fiber, diffuse, M6, long-distance, 2m cable (requires E3X amplifier) |
| | Diffuse reflective | Cylindrical axial | | 3 mm | | -40-70 °C | 670 mm | 2 m | Photoelectric sensor optical fibre, diffuse, 3mm dia, long-distance, 2m cable (requires E3X amplifier) |
| | Diffuse reflective | Threaded | M4 | 2.5 mm | | -40-70 °C | 390 mm | 2 m | Fiber optic sensor, diffuse, M4, long-distance, 2m cable (requires E3X amplifier) |
| | Diffuse reflective | Cylindrical axial | | 3 mm | | -40-70 °C | 390 mm | 2 m | Photoelectric sensor optical fiber, diffuse, 3 mm diameter, long-distance, 2 m cable (requires E3X amplifier) |
| | Diffuse reflective | Threaded | M6 | 1.5 mm | | -40-70 °C | 540 mm | 2 m | Fiber optic sensor, diffuse, M6 head with lens, long distance, standard R25 fiber, 2m cable |
| | Diffuse reflective | Threaded | M6 | 6 mm | 90° cable exit, Flexible fiber, Hexagonal back | -40-70 °C | 520 mm | 2 m | Fiber optic sensor, diffuse, M6 hex right-angled head, integrated lens, high-flex R2 fiber, 2m cable |
| | Diffuse reflective | Threaded | M6 | 1.5 mm | Flexible fiber | -40-70 °C | 520 mm | 2 m | Fiber optic sensor, diffuse, M6 head, long distance, high flex R1 fiber, 2 m cable |
| | Through-beam | Threaded | M4 | 4 mm | | -40-70 °C | 4000 mm | 2 m | Fiber optic sensor, through-beam, M4 head with lens, long distance, standard R25 fiber, 2m cable |
| | Through-beam | Threaded | M4 | 4 mm | 90° cable exit, Flexible fiber, Hexagonal back | -40-70 °C | 4000 mm | 2 m | Fiber optic sensor, through-beam, M4 hex right-angled head, integrated lens, high-flex R2 fiber, 2 m cable |
| | Through-beam | Threaded | M4 | 4 mm | Flexible fiber, R1 Bending radius 1 mm | -40-70 °C | 4000 mm | 2 m | Fiber optic sensor, through-beam, M4 head, long distance, high flex R1 fiber, 2m cable |
| | Through-beam | Threaded | M3 | 3 mm | | -40-70 °C | 1200 mm | 2 m | Fiber optic sensing head, through-beam, 2 m cable |
| | Through-beam | Threaded | M3 | 3 mm | | -40-70 °C | 2000 mm | 2 m | Fiber optic sensor, through-beam, M3, 2m cable |
Compare products
Show more products
Accessories
Accessories
 

- Extends sensing distance by more than 500%

- For M4 Through beam fibers E32-TC200, E32-ET11R, E32-T11 (fits M2.6 thread)

 

- For M4 through beam fibers E32-TC200, E32-ET11R, E32-T11,
E32-T61-S, E32-T81R-S (fits M2.6 thread)

- Temperature range -40 to 200°C

 

 

 

- For precision detection with M6 coaxial diffuse reflective fibers (e.g. E32-CC200)

 

 

- Extends sensing distance by more than 500%

- For M4 through beam fibers E32-ET51, E32-T61, E32-T61-S,
E32-T81R, E32-T81R-S (fits M4 thread)

- Temperature range -60 to 350°C

 

- Fits E32-T51V and E32-T54V (fits M2.6 thread)

 

 

- Amplifier adapter for thin fibers

 

 

- Fiber extension connector for 2.2 mm dia standard fibers

 

 

Protective spiral tube 1

- For M3 through beam type sensors

- For M4 through beam type sensors

 

Fiber on roll 2

- Standard monocore, 10 mm bending radius

- Standard monocore, 15 mm bending radius

- High flex multicore, 1 mm bending radius

- High flex multicore, 1 mm bending radius

- High temperature monocore, 20 mm bending radius
---
How can we help you?
If you have a question or would like to ask for a quote, please contact us or send a request.
Features
Enhanced sensing distance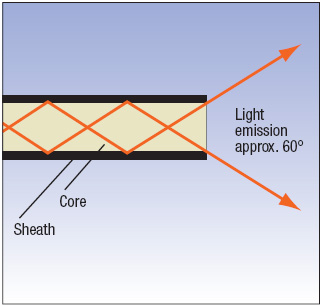 Light emission of conventional fibers.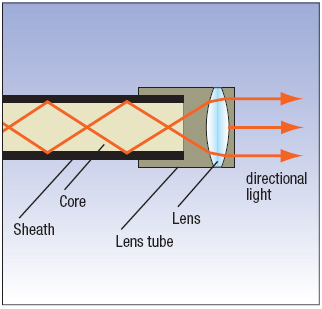 With built-in focal lenses, longer sensing distances can be achieved up to 5 times longer compared to conventional sensors.